Eumax DW-45 Copper Pentium 4 Heatsink Review
---
The all copper DW45 is based on the familiar interlocking fins we originally saw Neng Tyi showcase in 2000 at Comdex. The fins are typically brazed, or soldered the base, but in some instances they are merely glued.
"A good heatsink is one that is made entirely from copper" is what most of us think, and in most cases that is correct. However, just like adding a super fast fan to an everyday heatsink to improve cooling performance, making that same heatsink out of just copper is another shortcut.
That isn't a negative point by any means, but it isn't a replacement for good thermal engineering either - still, copper can make a good heatsink even better, so let's take a look at the Eumax DW45 and see on which side of the line it falls.
Looking at Eumax's website we can see that is anther one-stop-all-products company; making not only fans and heatsinks but, non-cooling related things like enclosures, round cables, and such. With such a product line, Eumax seem to fall under the OEM label more than the heatsink manufacturer title, but enough of that, let's take a look at this 2U compliant Pentium 4 heatsink.
Heatsink Specsheet:

Model Name: DW-45
Fan Specs: 380RPM, 12V, 0.40A, 33CFM
Fan Dim: 15x70x70mm
Heatsink Dim: 44x70x83mm
HS Material: copper
Weight: n/a
Mfg by: Eumax


Sold By: www.eumax.com.tw
The large copper base fits easily in to a stock Intel HSRM, and the 7mm wide flanges at either end provide a platform for the spring clips to rest on. As you can see in the picture, the spring clips lock in under one arm on the HSRM, and then come down to clip in on the other. In practice the clipping system is dead simple to use, and works pretty well. With heavier heatsinks like the Eumax DW45 it is a good idea to remove them from the computer during transportation however.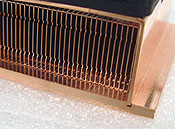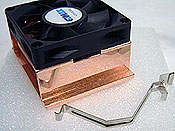 Looking closely at the edge where each of the copper fins makes contact with the 4mm thick copper base we can see no large gaps or spaces so the soldering/brazing job looks good. It is difficult to tell for certain however without ripping apart off or two of the heatsinks fins so bear that in mind.