Akasa AK350 Copper 1U Heatsink Review
---
In addition to the well known Silver Mountain series of copper/silver heatsinks, Akasa have a full series of coolers for all types of platforms. In this review we will be looking at the Akasa AK350 - a full copper, cold forged pin heatsink for 1U server or SBC applications. 1U heatsinks for the socket A/370 platform are height limited to about 30mm, which means they have to pack a big punch to keep those processors running at operational temperatures.
In the case of the AK350, the entire heatsink appears to made by cold forged from one small billet of copper. That means the 225 copper pins are part of the base, and not simply pressed into it as some other manufacturers do with aluminum pins and copper base plates.
The main benefit of the fin and the base being the same physical part, is that heat energy has an easier time traveling up from the base to the pins. If the pins were just inserted into the base, or soldered there, some level of resistance would occur at the metal-to-metal joints.
Heatsink Specsheet:

Model: AK350
Fan: 5000RPM, 20CFM, 12V, 0.17A.
Fan Dim: 10x60x60mm
Heatsink Dim: 25x60x60mm
HS Material: Copper
Mfg by: Akasa


Sold By: www.akasa.co.uk
The copper 1U heatsink is pretty tiny by most standards, and there really isn't much else to comment on about its construction. With only a few millimeters of space inside a 1U server, the 10mm fan is pretty much standard, and realistically there isn't much further to go, outward or upward.
Though, after taking the fan off for a closer look it was good to see how the clip was designed.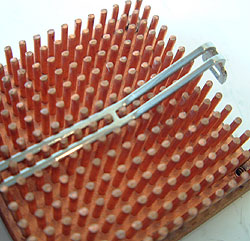 The width of the clip is on average, but rather than milling out a path for it to fit in, Akasa have cut out the center, enabling it to slip in between the rows of copper pins. At the fulcrum of the clip is a cross bar so that the clip will always remain aligned when you set about installing it on the socket.
It would be interesting to see what Akasa could develop along these lines for a video card cooler... but we'll have to wait on that one.