Globalwin CAK4-76T Copper Heatsink Review
---
With a thermistor controlled fan that ranges in noise from about 37 dB - 45 dB, the Globalwin CAK4-76T is one of the quieter heatsinks out on the market, but also one which will scale its speed to meet the cooling requirements placed on it. As the thermistor senses an increase in the temperature of the body of the heatsink it will increase the fan speed to compensate. This technique has been used for quite some time on power supplies where it was effective at decreasing the overall sound output of a computer.
A processor is a little bit of a different situation, but at least we are seeing Globalwin place the thermistor on the end of a small wire, instead of just at the base of the fan's motor. When installed properly, the thermistor should be able to sense the temperature at the base of the heatsink and adjust fan RPM to compensate. If the thermistor were at the base of the motor, it would be sensing already very warm fins before kicking in the extra power to keep the fan up to speed.
Heatsink Specsheet:

Model Name: CAK4-76T
Fan Specs: 4000RPM, 12V, 0.20A.
Fan Dim: 15x70x70mm
Heatsink Dim: 59x69x70mm
HS Material: Skived Copper 1100, Aluminum
Mfg by: Globalwin USA


Sold By: www.globalwinusa.com
The clear plastic fan you see below has a small thermistor at the end of a wire coming from the motor housing. When the fan is installed on the rest of the heatsink this thermistor is positioned in between two of the copper fins, or between the copper fin and the aluminum frame.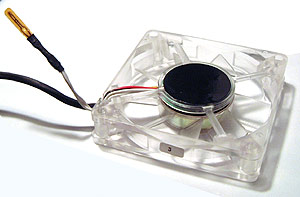 In this way, it is in direct contact with the metal and able to sense temperature changes to effect an increase in fan RPM. The RPM change is triggered between 30-38 degrees Celsius where fan RPM increases from 2800 to 4000RPM. In its' lowest state the fan is very quiet. When it kicks up to full RPM, the noise levels become atypical.