Fortis Tech A93 Copper Heatsink Review
---
The Fortis Tech A93 is an interesting little heatsink that comes with a fan RPM alarm and a small tube of "silver" based thermal compound. The little alarm gives out a horrible beeping sound when the fan is stopped, or comes close to stopping under power. The actual unit is made by computerdiy.com.tw from what we can tell, and consists of a small circuit board behind the blue protective casing. When the fan first powers up, there is a short squeal as the sensor kicks in.
The A93 is shown here with a 70mm fan attached, but if you did want to drop down to a 60mm fan it's worth noting that the green anodized aluminum fan shroud is tooled for either fan (70mm and 60mm screw holes are pre-made).
Heatsink Specsheet:

Model Name: A93
Fan Specs: 4000RPM, 36CFM, 12V, 0.15A.
Fan Dim: 25x70x70mm
Heatsink Dim: 55x72x74mm
HS Material: Copper, soldered sheets, aluminum
Mfg by: FortisTech


Sold By: www.fortistech.com.tw
The design of the Fortis Tech A93 is pretty simple with copper fins soldered to a punched out copper base. As long as the solder joint between teh fins and the base is decent, the heatsink should show some pretty typical cooling performance. However, since this is a relatively standard cooler, I wouldn't be expecting any top of the line performance out of it, and so overclockers should be aware that this is really intended for typical computer users.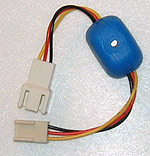 The little fan alarm is a neat idea, but only works if you are there beside your computer to turn it off. Ideally, the motherboard should be configured to shut down if the fans stop working for whatever reason