Fortis Tech Monster 90 Heatsink Review
---
We've always been a little harsh on heatsinks which use superfluous components to reinforce the belief that they are somehow better thermally. Fortis Tech's Monster 90 lives up to its name in size, and is a heatsink which at first seemed to employ extra bits of metal for no apparent reason. Measuring 92mm across at the top, the Monster 90 is paired up with a 92mm fan which is not exactly standard fare.
The larger fan should enable the Monster 90 to produce a little less noise than a standard cooler, but I wouldn't quite go so far as to call it a low-noise heatsink. Looking at the massive amounts of extruded aluminum on the Monster 90, and the unnecessarily complex design it is easy to draw conclusions and label this heatsink as "all for show." However, after looking at the thermal test results it becomes clear that such notions ignore the very core of the heatsink, literally.
At the heart of no less than two outer rims of extruded aluminum, lies a copper core. This 18mm cylinder of copper, and the central aluminum extrusion do most of the work on the Monster 90. The outer gold-coloured aluminum extrusion holds the fan in place, but really offers no significant thermal performance gains.
Heatsink Specsheet:

Model Name: Monster 90
Fan Specs: 25-340RPM, 57CFM, 12V, 0.17A.
Fan Dim: 25x92x92mm
Heatsink Dim: 75x63x63mm
HS Material: Extruded Aluminum, Copper
Mfg by: FortisTech


Sold By: www.fortistech.com.tw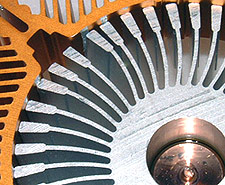 It really isn't evident just how poor the connection is between the central silver-coloured aluminum extrusion and the outer gold-coloured section. As it makes contact with portions of the outer edge of the central hub's fins the degree of thermal energy which can be transferred is negligible. Realistically speaking, Fortis Tech could have gotten by with a plastic fan shroud.
However, let's not dwell on that further. The coper core reaches up about 3/4 the heigh of the central extrusion in a nice and smooth cavity. It isn't machined, but the surface and finish look quite good.
The top of the copper slug shows signs of where it was cut from the larger rod it used to belong to, and unfortunately could do with some cleaning. There was a small amount of machine oil collected at the top of the copper slug, which could have slowly dribbled out after this heatsink were installed horizontally in a computer.
The main parts of each fin are just 1mm thick, and only expand in size to 2mm at the outer edges. Heat doesn't travel as well through metal if it is thin, and so not as much will be reaching the outer gold-coloured extrusion as would be if the fin thicknesses were reversed.