Tocools S1 Pentium4 Heatsink Review
---
Tocools are a Korean heatsink manufacturer, and have little exposure at the moment in North America. I'd expect that to change as their "Pyramidal Inside Cutting" becomes more well known. The Tocools S1 does not take advantage of the triangular shaped base which has help to make heatsinks like the Novasonic one of the more powerful aluminum coolers on the block. The S1 is a slightly older model, and one which will probably never see wide production, but since we don't know for certain, let's take a quick look at it now.
The body of the heatsink is machined aluminum, with each fin individually cut from a solid block by what we can tell. On board is a 25x80x80 Delta fan which rotates at 4000RPM, so it will be interesting to see just how well this socket 478 heatsink is able to perform acoustically.
Heatsink Specsheet:

Model: S1
HS Material: Machined Aluminium
Fan: Delta, 4000RPM, 46CFM, 40dB
Fan Dim: 25x80x80mm
FHS Dimensions: 82x70x69mm
Weight: 425g
Made by: Tocools

Sold By: www.tocools.com
Despite its large appearance, the S1 from Tocools fit inside of a standard Intel heatsink retention mechanism. Sadly, Tocools have opted to utilize less than ideal wire clips to hold the heatsink in place. They do work, but there isn't very much clipping force, and any significant bumps to the computer chassis could very well knock one of the clips loose. I'd seriously recommend Tocools make the catch mechanism a little more secure for the S1, or use an entirely different type of clipping mechanism.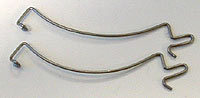 The two small pieces of wire, shown above, clip onto one of the plastic tabs of the heatsink retention mechanism, and then softly latch into the other one on the opposite side.