Tocools Regal Pentium 4 Heatsink Review
---
Tocools have coined the name "Pyramidal Inside Cutting" for their heatsinks to describe a way of cutting the spaces between the fins to create little triangles which help direct air flow. As you've probably noticed, most heatsinks are extruded from a mold and have flat internal bases (the fins meet the base at 90 degrees).
This is a factor brought about by Extrusion technology, and to circumvent this, Tocools cut each fin from the aluminum block with a machine. There have been examples of similar techniques on other heatsinks, but nothing quite like what Tocools do with the Regal. Between each fin is a triangular shape, 20mm tall with sides of 38mm each.
Heatsink Specsheet:

Model: Regal
HS Material: Machined Aluminium
Fan: Delta, 4000RPM, 47CFM,
Fan Dim: 25x80x80mm
FHS Dimensions: 70x83x69mm
Weight: 400g
Made by: Tocools

Sold By: www.tocools.com
As exhaust air from the fan travels in between the fins and reaches the bottom of the heatsink it is directed out, and towards either side by the shape of the base. This apparently makes the heatsink less noisy, and as we have seen in the synthetic tests, more efficient thermally. The Tocools Regal has proved to be a surprisingly competent aluminum heatsink with just a 20mm thick 80mm fan on board.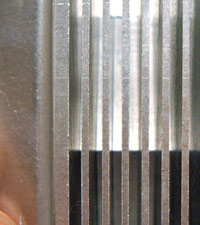 However, since the Regal is supported by the standard HSRM, the exhaust air does not have as clean an exit as on the Novasonic Socket A heatsink. Consequently, the Tocools Regal performs just a little bit lower than its' cousin.