Tocools Novasonic Heatsink Review
---
This heatsink may look like a standard aluminum cooler but on the inside it uses a very neatly little bit of technology to improve performance. Tocools call this technology "Pyramidal Inside Cutting" and while that is a little bit of a play on words, it does describe the technology... sort of.
Let's start with the basics; because most heatsinks are extruded from a mold under high pressure and heat there are some basic limitations thermal engineers have come to accept. The most basic one which relates to this heatsink is that extrusion heatsinks are essentially three dimensional representations of a one dimensional pattern. A die is cut based on a line drawing and that means the shape doesn't change.
Tocools have opted for a more mechanical approach and machined their heatsinks into the final shape. In this way they are able to cut out the overall shape, and change certain things that would otherwise remain the same with an extrusion.
What they decided to change was something hidden from immediate view, and something most of use wouldn't ever give much though to; they machined the base area between each fin into a little triangle.
Heatsink Specsheet:

Model: Novasonic
HS Material: Machined Aluminium
Fan: Delta, 4000RPM, 47CFM,
Fan Dim: 25x80x80mm
FHS Dimensions: 74x80x80mm
Weight: 420g
Made by: Tocools

Sold By: www.tocools.com
There have been other examples of similar techniques, but nothing quite like Tocools application on the Novasonic. Between each fin is a triangular shape, 20mm tall with sides of 38mm each. As exhaust air from the fan travels in between the fins and reaches the bottom of the heatsink it is directed out, and towards either side by the shape of the base. This apparently makes the heatsink less noisy, and as we have seen in the synthetic tests, more efficient thermally. The Tocools Novasonic proved itself to be a surprisingly competent aluminum heatsink, with just a 20mm thick 80mm fan on board.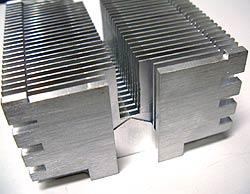 For the moment you will have a hard time finding this heatsink in retail stores, but if you look hard you might get lucky.