Tocools Crown Prototype Heatsink Review
---
Spring is officially here, and with it are coming a fresh crop of prototype heatsinks at the FrostyTech Labs. The first such prototype to surface is the Tocools Crown.
The Tocools Crown is largely machined from a block of aluminum, but this may change with the production models. Tocools are a Korean Company which have yet to break into the North American heatsink markets - however given what we have been seeing in their heatsinks thus far, this may quickly change.
So now that we have our Frosty little hands on this prototype cooler, what is so special about it? Well for the most part the Crown follows the standard formula of many heatsinks we've seen before, except for one aspect... which we'll touch on in just a second.
Heatsink Specsheet:

Model Name: Crown
Fan Specs: Delta, 6000RPM, 12V, 0.51A.
Fan Dim: 25x80x80mm
Heatsink Dim: 66x80x63mm
HS Material: Milled Aluminum Block
Mfg by: Tocools Corp.
Cost: N/A


Sold By: www.tocools.com
We have seen many different types of extruded heatsinks designed with interesting fin combinations, scalloped fin textures, and variable base thicknesses. This is however the first time we have seen a wedge shaped base on an aluminum heatsink, and given the preliminary results that the Tocools Crown was able to produce, the designers there may be onto something.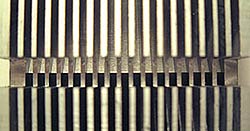 It was difficult to photograph exactly what we are referring to, but with the heatsink disassembled, and the clip removed you can plainly see how the base has been cut.
Rather than having a flat base with all the fins meeting at 90 degree angles, Tocools have raised up the center 23mm or so that it becomes a big triangle.
The edges of this "triangle" base intersect with the fins at about 45 degrees and follow through right to the bottom of the heatsink. The end result as we can gather is to get the exhaust air from the fan through the fins out of the heatsink with the least amount of velocity loss, and as little pressurizing as possible.
As most of you may be aware, the are just below the fan is usually a dead spot in terms of air flow, so this modification to the shape of the base may also have added benefits in this regard.