Thermalright SLK800 Copper Heatsink Review
---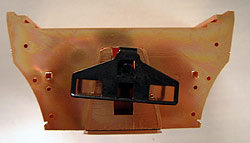 What could possibly be better than an all copper heatsink built from the ground up with performance cooling in mind? Okay, an all silver heatsink would be better, but since such a thing doesn't exist in the mainstream cooling world, we'll just have to settle for the Thermalright SLK-800 and plug our ears.
The SLK800 uses a triangular shaped base which is similar in many was to what we have seen from the Korean manufacturer, Tocools. The difference here is that Thermalright have milled a slot all the way down the center of this rather large copper Toblerone shape for a three-prong clip to take hold of the socket. With a base thickness over the core of just 8mm, it would have been nicer to see a different method of clipping utilized here.
Since this is a performance class heatsink you have two options for fans - go moderately loud and use a 25mm thick fan, or go really loud an use a 38mm thick fan. Thermalright package the SLK800 with two wire clips, and differently spaced mounts for just this reason. The heatsinks works with either type of fan, but most people we've talked to tend to opt for the 38mm fan at first (then scale back as the noise becomes an issue).
Heatsink Specsheet:

Model Name: SLK-800
Fan Specs: Delta, 5700RPM, 12V, 0.81A.
Fan Dim: 38x80x80mm
Heatsink Dim: 81x56x58-86mm
HS Material: copper
Weight: 505grams
Mfg by: Thermalright


Sold By: www.thermalright.com
The SLK-800 is pretty large heatsink from the side, the copper fins range from 58mm to 86mm. The heatsink is only 56mm thick though. The edges of our 80mm fan overhang the heatsink body by about 10mm on either side, and that is potentially a lot of wasted airflow. The heatsink limitations are due primarily to the size of the socket A platform and there really isn't any way around this. It will be very interesting to see what Thermalright come out which for the Athlon 64 when that arrives to market in April of 2003...