Thermalright AX-478 Heatsink Review
---
What do you get when you cross a die-hard overclocker with the need for an insanely powerfull cooling solution?
The Thermalright AX-478.
With an 80mm Delta screaming away at 5700 RPM (producing nearly 70dB of noise), the end result is one hell of a loud heatsink boasting top of the line thermal performance for the Pentium 4. Don't forget for a second that tha fan can dice through finger tips like a blender! You can test this for yourself if you don't believe me, but I'd really suggest investing a few bucks into a nice wire grill to cap off the Delta fan used in this review.
It might be worth mentioning that before I saw the thermal results for this heatsink with the 38mm Delta fan I was a bit skeptical of just what it could do. Those assumptions were swept aside as the Thermalright AX-478 is now at the top of two sets of FrostyTech tests; in this configuration it is the absolute loudest, most annoying, and hazardous-to-fingers heatsink we have ever tested. It is also thermally the best performing socket 478 heatsink to date.
Some might argue the sheer loudness of the heatsink cancels out the thermal aspect (you'll hate it after about 10 minutes), and I'd have to agree . But for those people who are able to grin and bear it, the thermal performance is nothing to complain about whatsoever! So, let's get started with our look at the Thermalright AX-478 pentium 4 heatsink...
Heatsink Specsheet:

Model Name: AX-478
Fan Specs: Delta, 5700RPM, 12V, 0.81A.
Fan Dim: 38x80x80mm
Heatsink Dim: 81x70x64mm
HS Material: Extruded Aluminum, nickel plated, copper plate.
Weight: 620grams
Mfg by: Thermalright


Sold By: www.thermalright.com
The question on many minds is how can a piece of aluminum extrusion be soldered to a copper base? After all, aluminum doesn't really take to solder.
The answer as I understand it that the aluminum section is first prepared by plating copper onto its surface with the help of a chemical bath and electric current. Next, a layer of nickel is used to cover the copper coating on the aluminum, and a similar procedure is also done with the copper base plate.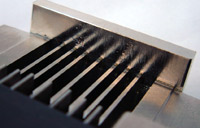 With both metal sections now plated in nickel the two can be joined by either brazing, or soldering. The resulting bond should be pretty good for thermal heat transfer (as in lack of air bubbles, and voids) if done properly.