Arkua 848X-6B 1U Pentium 4 Heatsink Review
---
When was the last time you said to yourself "I need a 1U heatsink for my Pentium 4 server" and came up empty? Well, this week we are examining a few 1U and 2U heatsinks for the socket 478 form factor. These heatsinks are being manufactured with the intention that they will be used to cool down server chips, but in this day and age it seems more likely that these active heatsinks will get mounted into a Small Form Factor PC. After all, those types of computers are steadily gaining in popularity as Shuttle's online review presence steadily promotes their virtues.
In those small aluminum cases, space is at a premium just as it is in servers. The goal in each instance is to optimize the thermal performance of the heatsink. In the 1U server, the heatsinks get a helping hand from the case fans which can range anywhere from four squirrel cages blowers, to a series of 40mm "stubbies."
Putting that aside, one thing is immediately evident about the Arkua 848x-6B heatsink - it's based on a very efficient fin design, and with a solid copper core at its heart it will surely be interesting to see how it performs!
Heatsink Specsheet:

Model Name: 848X-6B
Fan Specs: 4700RPM, 12V, 0.34A
Fan Dim: 10x60x60mm
Heatsink Dim: 83x71x12mm
HS Material: Extruded aluminum, copper insert
Weight: 162 grams
Mfg by: Arkua


Sold By: www.arkua.com.tw

 
Give the size constraints the Arkua 848X-6B is up against, it is little wonder that the heatsink makes use of a back plane connector plate. Not only does the metal bracket support the PCB against any mounting stresses, but it also forms the basis for mounting the heatsink. Four screws lock into the four posts and an integrated spring system on the heatsink applies the tension.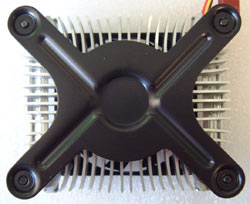 All in all, the system is remarkably easy to use, but the motherboard will have to be removed in order to install the heatsink - there is no way around that.