GlacialTech Igloo 2400 Heatsink Review
---
GlacialTech manufacture inexpensive OEM class heatsinks of a fairly standard design, although they add a few things to make them stand out on the shelf. There are no special fin designs, exotic materials or turbine fans, but there is a stiff clip and a red anodized fan shroud. The simple aluminum extrusion and fan are complimented by a extra shiny plated heatsink finish and pre-applied patch of silver-based thermal compound.
Retailing around the $20 price point it is the pre-applied silver thermal compound on the base of the heatsink which catches our eye first, and the off-center fan next (could this really improve the performance?). All this is good, but the real question which sticks in our mind is whether or not the Igloo 2400 will be able to deliver good performance for the low price it demands.
Heatsink Specsheet:

Model Name: Igloo 2400
Fan Specs: 20CFM, 36.5 dB, 4000RPM, 12V, 0.22A.
Fan Dim: 15x70x70mm
Heatsink Dim: 83x64x54mm
HS Material: Extruded Aluminum, nickel plated
Weight: 240grams
Mfg by: GlacialTech
Cost: $19USD


Sold By: www.glacialtech.com.tw
For starters I'd have to say that the clip on the Igloo 2400 is the stiffest I've ever seen on a heatsink. While it is good that a stiff clip will ensure that a heatsink is properly mounted on the processor core, it can also lead to chipped core edges, or even broken processors of the force is too great.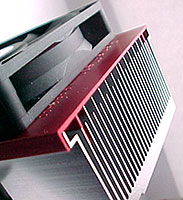 Socket clips like this seriously make us investigate adding some digital force gauges to the FrostyTech set of heatsink test equipment. The only really problem is that load cells cost and arm and a leg, and Amtek or Chatillon digital force meters are just about as expensive.