Globalwin VA476 Pentium 4 Heatsink Review
---
Globalwin are one of the longest standing heatsink manufacturers in the industry, and with the close of this years Computex 2002 we have been patiently waiting to see what they have to offer. The VA476 is one of Globalwin's newest socket 478 pentium 4 heatsinks. Designed around a thick copper base, and lightweight set of nickel-plated aluminum fins, the VA476 certainly looks as though it has good breading. However, as always this is a senario that can sometimes offer foggy first impressions.
The weakest point of any assembled heatsink lies with the thermal joint between the nickel-plated aluminum and copper base plate. If the soldering or dip-brazing is not perfectly done, small voids can form which will hamper the flow of heat up through to the fins. From an initial inspection it looks as though the GlobalWin VA476 is going to be in pretty good shape though. It's also kind of interesting to note that the 0.5mm thick fins are spaced just 1mm apart - meaning fin density is pretty plush.
Heatsink Specsheet:

Model Name: VA476
Fan Specs: 4500RPM, 12V, 0.19A, 32CFM
Fan Dim: 15x70x70mm
Heatsink Dim: 62x83x69mm
HS Material: punched aluminum, copper.
Weight: 390gm
Mfg by: Globalwin
Cost: $31USD


Sold By: www.globalwinusa.com
The clip which come with the VA476 heatsink proved to be amazing complicated and difficult to engage on the stock HSRM. This despite the fact that they are essentially nothing more than flat, bent pieces of metal. In theory the clip should be pretty simple to work with, but even in the wide open spaced of our test platform we had a hard time figuring out what to do with it, and with the amount of force necessary to lock the heatsink in place.
Globalwin do include instructions, and we made good use of them which emphasizes the fact that while the clips are simple in design, the mechanism is not intuitive, and not immediately straight forward. There are a half dozen or so clipping systems in the market and Globalwin may do well to seriously consider adopting one for the VA476.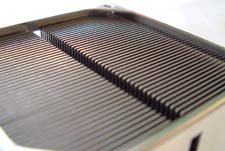 With the fan removed we can see one of those secrets to good airflow - airflow between the base of the fan and the tips of the fins. The small slot in the center of all those fins is probably for a clip for a socket A variation of this heatsink to sit in. On the VA476 it serves no purpose whatsoever that we can see.