Vantec Tornado Case Fans
---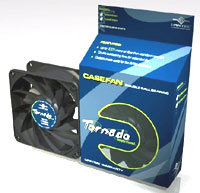 For the longest time it was really difficult to track down insanely powerful, high CFM, chop-off-your-fingers-they-spin-so-fast case fans for extreme cooling applications. Heck, I pretty much have to crank up the volume on the head phones I'm looking at the 92mm TD9238H spin away at 4800RPM on the desk in front of me. The trade off comes at the fact that this 38mm thick case fan moves 119CFM - that is a lot!
The two fans Vantec sent our way are both really powerful, really noisy, and really freakin' cool. Aside from the coolness factor that comes with using 38mm fans for case cooling or perhaps a heatsink fan upgrade, Vantec have gone full out and set us up with all we need right from the start. The fans come in a nifty looking box with two things that are important - special screws for attaching the fans to the frame of an enclosure, and a special power connector which has a RPM monitoring cable. Rather take the cheap way out and only supply a Molex connector for power Vantec have added a one-wire three pin fan header so your motherboard can monitor fan RPM if you like. Pretty cool indeed.
The smaller 80mm TD8038H fan (and I use the term small loosely) draws 0.75A, and the larger 92mm TD9238H fan draws a full Amp. That is a lot of power, enough that it could even damage some motherboards so the Molex connector is necessary. Anyway, the fans both use pass-through cables so it isn't a loss in terms of connectors.
Using high-end Sunon fans with dual ball bearings the Tornado fans from Vantec are covered by a LifeTime warranty, and more importantly, a wire mesh gill. Considering the power and bite of the impeller motor assembly it would be a pretty gory mistake to put a finger into the fan blades of the Tornado fans while they were in operation!
By the way, the 80mm Tornado is perfect for the Alpha 8942 or Swiftech MCX4000 if you ever wanted to upgrade to something with more kick!
Sound Level Measurements
To measure the level of sound produced by a fan in decibels, we use an Omega HHSL1 sound meter. The HHSL1 is highly accurate between a range of 35-130 dB. To measure the level of noise produced, the fans were each placed on a Melamine foam surface and connected to a silent power source. The HHSL1 sound meter was positioned about 12" above the fan and slightly off to one side. The highest average level of noise was recorded. For comparisons sake, we've include the test results from the Vantec Stealth series of fans.
Vantec Tornado & Stealth Fans

Model No.:
Size:
Amp:
Speed:
Air Flow:
Measured Noise Level:
TD8034H
80mm
0.75A
5700RPM
84 CFM
70.4 dB
TD9238H
92mm
1.00A
4800RPM
119 CFM
70.1 dB
SF6025L
60mm
0.08A
2600RPM
12 CFM
34.9 dB
SF8025L
80mm
0.10A
2050RPM
27 CFM
36.5 dB
SF9225L
92mm
0.07A
1750RPM
28 CFM
35.3 dB
Surprisingly, the level of noise each of these fans generates under real world conditions is pretty consistent. Both the 92mm and 80mm Tornado fan were measured at just over 70 dB of noise from 12" away using an Omega HHSL1 Sound Level Meter.
The bottom line here is pretty simple - the Vantec Tornado fans are going to add a ton of extra airflow into your case and give you that extra edge in total system cooling. Now just so we are clear, no fan will solve all your cases cooling problems if the case doesn't have a place for all that intake air to go. For the Vantec Tornado fans to do their work the case must be able to exhaust just about as much air as it intakes - otherwise it will just become pressurized and air will leak out of every crack and crevice!
Noise is a given, but then again ultimate cooling performance doesn't come for nothing. ;)