Arkua 8568 Socket 478 Heatsink Review
---
From the very first Arkua heatsink we were able to test we could see there was something rather impressive about this type of heatsink design. The heatsink fin section is very efficient in its delivery of the heat energy to the outer fins, and most importantly the flow of air gets put to a maximum use.
If you think about the core temperature of a pentium 4 and the "hot" temperature of the air as it escapes the heatsink you'll probably realize that the is still a big difference. No matter what the heatsink, the exhaust air will always be a lot cooler than the actual heatsink, and the processor itself. With that simple realization in mind it seems like an obvious reason to exhaust the air from the heatsink directly at the processor - further cooling it down over that of the heatsink.
That is pretty much the idea behind this type of heatsink, originally designed by a company called Thermoengine, and the reason why the Arkua 8568 heatsink is the one heatsink I use in my own computer.
Heatsink Specsheet:

Model: 8568
Fan: Innovative, 5400RPM, 12V, 0.28A.
Fan Dim: 15x70x70mm
Heatsink Dim: 97x91x62mm
HS Material: Extruded AL6063-T5 Aluminum, copper
Weight: 352g
Mfg by: Arkua
Comes with: HSRM
Cost: ~$40


Sold By: www.Arkua.com
The 8568 is an aluminum heatsink with a copper slug at its heart. By using a copper core, a more thermally conductive center (28mm in diameter) can transfer the heat energy from the processor to the surrounding aluminum faster. The top of the copper slug is exposed, and you can almost wonder why Arkua didn't cut any pegs into the surface. In any case, the base is machined nice and smooth for a perfect thermal interface.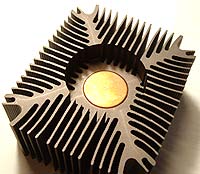 The central portion of the Arkua 8568 has been machined out to leave a 38mm diameter hole that goes down about 10mm, leaving the copper core only about 26mm tall instead of the full 36mm.