Ajigo MF014021 Copper Heatsink Review
---
The Ajigo MF014021 is virtually identical to the Ajigo SF017011 save for a slightly larger fan and better finished base. With that in mind we should be expecting equivalent, or perhaps slightly better performance. If you haven't heard of Ajigo don't worry, they are still relatively new to the cooling marketplace from a consumer perspective.
The company is based out of California and originally specialized in designing custom heatsinks. The company is intent on designing "products that perform well, using the latest improvements in cooling technology." According to their website the designers at Ajigo "design coolers for optimal performance and do not incorporate any designs just for the sake of appearance or novelty."
What does that mean to you and me? Well simply put, Ajigo try to make heatsinks that work and that's it. There will be no shiny copper plating, no blue-LED packing fan, no fluff.
The MF014021 incorporates a nickel plated copper base with nickel plated aluminum fins soldered on.
Heatsink Specsheet:

Model: MF014021
HS Material: Nickel plated Copper, and aluminum fin.
Fan: 4800RPM, 12V, 0.25A, 21CFM,
Fan Dim: 10x60x60mm
FHS Dimensions: 42x60x62mm
Weight: 289g
Made by: Ajigo

Sold By: www.Ajigo.com
In order to attach the aluminum fins to the copper base both metals are plated in nickel. Nickel plating also protects the copper base from oxidation, and as a bonus, provides a smoother mating surface for the processor core.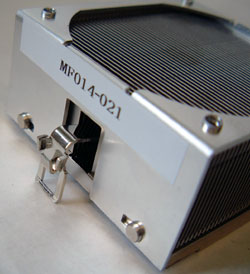 Unlike some other heatsinks which use a small flap of crimped copper to hold the fan shroud in place, the Ajigo MF014021 uses small stainless steel pegs. These pegs hold the aluminum shroud firmly in place and mean it is less likely for the assembly to come loose.