Titan TTC-CU5TB Copper Heatsink Review
---
There are two different versions of this heatsink floating around the web being reviewed. The first is the type you see below with a silver body and copper fins. The other kind has a copper plated body and copper fins. Visually they are different, but performance wise they should be just about identical.
This is also the second heatsink we have seen this summer to use a fully aluminum fan - why manufacturers are doing this we can't quite explain. There is really no thermal benefit of having an aluminum framed fan. The only reason we have been able to think of is perhaps the heavier weight of the copper based heatsinks are causing too many broken fans in shipping. But even that is something which is usually centered around the impeller, and not the outside frame... Well, in any event the Titan CU5TB uses a silver coloured fan impeller on an extruded aluminum fan frame.
The fan is protected from errant fingers, or damage during shipping by a wire fan grill. Wire fan grills are a lot better than those laser cut one because they actually work, and cause almost no resistance to the intake. The laser cut variety can restrict the amount of air the fan is able to intake, that can decrease the effectiveness of the entire heatink by a few degrees. Those types of grilles also look gimmicky.
Heatsink Specsheet:

Model: TTC-CU5TB
Fan: 4500RPM, 36CFM, 12V, 0.27A
Fan Dim: 16x72x72mm
Heatsink Dim: 72x72x59mm
HS Material: Copper and Aluminum
Mfg by: Titan
Cost: ~$27


Sold By: www.titan-cd.com
The copper fins on the Titan TTC-CU5TB stand out for two reasons. First off, the joint with the base is flawless and very smooth. This makes us wonder if perhaps grooves have been cut into the copper plate and the fins fitted in before being brazed in place. This seems unlikely as it would make the manufacturing process considerably more complex.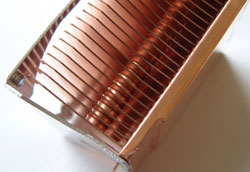 The best guess would be that the fins are simple pressed to the surface of the copper base and then brazed into place where they remain. Most other heatsinks using copper fins in this manner have a small one or two millimeter tab which is actually used to space the fins and bond them to the surface of the base.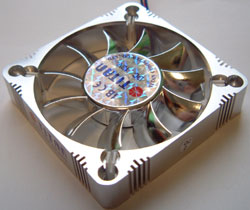 The other reason the fins stand out are because of the circular punched out area used to space them 2mm apart. With just a quick glance you could be forgiven for thinking there is a small heatpipe contained in that space. Of course, there is no such apparatus on the TTC-CU5TB, but does certainly look that way.