Cho Liang CB0315U17 Copper Heatsink Review
---
Cho Liang have been aggressively trying to enter into the lucrative North American markets and one such example of this attitude is the full copper CB0315U17 Socket A Athlon XP heatsink. The heatsink (which really ought to have a less abstract name if it is ever to see wide acceptance) is based on three sets of copper parts, brazed together and then heavily sanded and polished to a mirror finish. The bright, shiny look will absolutely grab your attention if you ever happen to see it on a store shelf.
On the plus side, this finish leaves the heatsink looking like a shiny aerodynamic block of copper. On the negative side, the heavy polishing takes away from some of the machining which tends to indicate manufacturing quality.
Faced with that information void it is difficult to tell how well the base has been treated. The undercut for the socket cam arm is evident, but has the base simply been punched out under high pressure, or has it been machined flat?
Heatsink Specsheet:

Model Name: CB0315U17
Fan Specs: 3500RPM, 12V, 0.22A, 29.5 CFM
Fan Dim: 15x70x70mm
Heatsink Dim: 50x63x60mm
HS Material: C1100 Copper
Weight: 390 gm
Mfg by: Cho-Liang Tech
Cost: $35USD


Sold By: www.cho-liang.com.tw
Looking at the side of the base it is pretty evident that the base plate has been punched out, but this isn't always a negative strike, and in fact the engineers straight edge shows the base is pretty darn flat over the center.
Still, even though the heatsink looks cool it appears as though Cho Liang are using single U-shaped copper fins back to back without any kind of bonding. If the clip hadn't bent one of the fins down (the clip is free floating in the heatsink) we wouldn't have even noticed.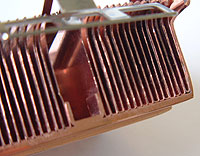 The three prong clip is a really nice touch, and something we wouldn't have expect to see - only a few mainstream manufacturers are using three-prong clips, and it is pretty impressive to see that Cho Liang are following suit.