Ajigo SF017011 Copper Heatsink Review
---
With Socket A heatsinks there is an equally strong demand for quiet, and efficient heatsinks as there is for loud copper monsters that require the latest in case sound proofing technology. Ajigo are a new heatsink company to us, and one which we hope to be seeing more things from in the future.
The company is based out of California and originally designed custom and specialized heatsinks. After some work with AMD on non-production thermal solution they were apparently asked to come up with a few designs for mass production. Since then Ajigo seems to have assembled a small assortment of no-nonsense heatsink designs for AMD processors. Searching through their website (www.ajigo.com) we found this quote which summarizes their position; "Ajigo designs products that perform well, using the latest improvements in cooling technology. Unlike many thermal companies, we design coolers for optimal performance and do not incorporate any designs just for the sake of appearance or novelty."
The SF017011 is an interesting heatsink for a few reasons. The design of fins soldered to a thick copper base is nothing revolutionary, but the incorporation of nickel-plated aluminum fins soldered to that copper base is something we don't see too often.
Heatsink Specsheet:

Model: SF017011
HS Material: Nickel plated Copper, and aluminum fin.
Fan: 5400RPM, 12V, 0.36A, 27CFM,
Fan Dim: 13x60x60mm
FHS Dimensions: 44x60x62mm
Weight: 300g
Made by: Ajigo

Sold By: www.Ajigo.com
In order to get aluminum fins soldered to a copper base the metals need something in common. Aluminum can't be soldered, but nickel can. Nickel plating the copper base simply helps arrest oxidation of the copper, and provides a smoother mating surface as a side benefit.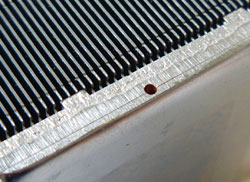 The heatsink we received for testing was primed and ready for AMD certification. If you have ever wondered what that means, it is simply that the heatsink has a hole drilled in the side of the base for insertion of a thermocouple for temperature measurements. The hole you can see in the image below would have a thermocouple inserted and then would be filled up with epoxy, or some other material.