Coolermaster HSC-V62 Copper Heatsink Review
---
There are a variety of ways to control cooling noise; the easiest of which is to simply sacrifice higher cooling performance for a lower speed fan which doesn't create an annoying whine as it spits out high CFM's. The other option, and one which I expect will continue to see wider and wider acceptance in the next few months, is to equip the heatsink with a dynamic temperature reactive fan.
Coolermaster have done just this with the new (just released at Computex and on their website here ) HSC-V62 model. I would expect to see it on store shelves summer 2002.
Beneath the shiny exterior of the copper skive heatsink there lies a small thermistor which sends back temperature readings to the fan. The thermistor is attached to the fan motor which has a range from 3000-6800RPM according to the official specs. Under low heat load the fan will spin slowly and quietly, and under high heat load ramp up to full RPM.
The thermistor actually protrudes from below the fan motor so it is in the region which isn't directly cooled by the fans intake air. We have reviewed some other fans where such a feature would have only been useful if the ambient temperature were astronomically high, but that's another story altogether.
Heatsink Specsheet:

Model: HSC-V62
HS Material: Skive Copper, Aluminum
Fan: 3000-6800RPM, 12V, 0.08A, 16-36CFM,
Fan Dim: 25x60x60mm
FHS Dimensions: 60x60x44mm
Made by: Coolermaster

Sold By: www.coolermaster.com.hk
It is going to be difficult to review the Coolermaster HSC-V62 without the fan eclipsing the heatsink, but we'll try our best to split it down the middle. The 12V, 0.2A fan is listed to range in speed from about 3000RPM to 6800RPM depending on the temperature being read by the thermistor. Essentially, the HSC-V62 heatsink is capable of both quiet cooling, and louder performance cooling - all in one package.
For example up to about 40C the fan will spin at 3000 RPM which will mean a low noise signature. From between 40C to 47C the fan will ramp up to full speed and hopefully kick the temperature back down below 40 degrees, but if not it will continue at full speed for maximum cooling power.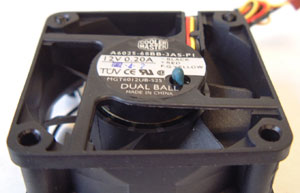 If you look closely at the above photo you can see the small blue thermistor poking through from behind the fan motor. The heatsink itself is skived copper so there ought to be some good cooling performance there.
Anyway what is really impressive besides the temperature sensitive fan is the level of quality of the heatsinks' base, it is machined perfectly flat. Up next we take the Coolermaster HSC-V62 apart and have a close look from several different angles so you can have a closer look.