Zalman 300W ST-300BLP Quiet Power Supply
---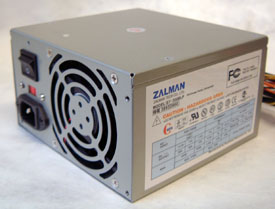 Zalman is better known for their elaborate fan shaped heatsinks then anything else. Their heatsinks are always of the highest quality and even though they don't cater towards the overclocker enthusiast market, they still perform quite well.
Zalman's claim to fame has always been "noise prevention" and the Zalman 300W ST-300BLP is the quietest PSU we've ever used. In fact, it measures less than 25 dB loud so it is virtually silent in operation, and this has a lot to do with the fan and how slow it rotates.
The Zalman ST-300BLP retails for $69USD on Directron , and supplies 300W of power to today's AMD or Pentium 4 systems.The near-silent powersupply comes with a standard 24-pin ATX power connector, 4-pin ATX 12V (P4) connector and an Aux. 6-pin AT power connector in addition to a host of peripheral connectors which we'll get to in just a moment. The powersupply has an on/off button and mains voltage selector so it can run on 120V or 220V AC.
The power cables are nice and long at about 58 cm which is great for those tall tower cases. That's extremely useful for users of full tower ATX cases, as they shouldn't have to worry about power cables not reaching the lower drives or fans.
There are a total of six molex connectors and three floppy drive connectors. Of course where this Zalman separates itself from the rest is with noise, or more correctly the lack of it. When the powersupply is in full operation it is hardly audible! With its fan running at 1500 RPM at 25 degrees Celsius or below, it's almost impossible to hear unless your head is right next to the fan.
When the PSU detects the temperature rise past 25 degrees, the fan automatically starts to spin faster up to a maximum of at 53 degrees Celsius 2000 RPM and even at that barely produces any noise. The fan is produced by Globe Fan here are the specifications for the people who are interested. Note that we only measured its noise level at room temperature speeds.
Venting issues:
The venting properties of the Zalman 300W ST-300BLP are not going to be quite as good as the much loved (quality set aside) Enermax PSU's these days. The one fan doesn't move that much air, and the vents are only sized proportionately for that. If you're running an AMD system which generates a lot of heat you're going to want to look at investing in another alternative for system exhaust like a low-noise case fan.
Listed Voltages
AMP's
Lower Voltage
Upper Voltage
Jitter
3.3v
28A
- 3.28v
- 3.28v
0.016v
+5.0v
30A
- 4.99v
- 4.99v
0.028v
+12v
15A
- 12.28v
- 12.22v
0.061v
-12v
1.0A
- v
- v
0.081v
-5.0
0.5A
- v
- v
0.050v
+5.0sb
2.0A
- 5.56v
- 5.56v
0.017A
The Zalman 300W ST-300BLP Quiet PSU is the easily the quietest power supply we've ever used. Zalman has done quite a few good things with this PSU, we really appreciated the longer then usual cables, be it the main ATX power connector or the molex and floppy drive connectors.
Having a quiet/slow PSU fan does have its drawbacks and we found that the Zalman 300W ST-300BLP is not very good for system exhaust and high powered AMD systems specifically might run into possible case-temp problems. Intel based systems shouldn't be affected by this though. Realistically though, the type of user looking to add a silent PSU is not going to be the same person with an exceptionally loud CPU cooler and overclocked system either.
At $69USD from the online retailer Directron, the Zalman PSU does offer quiet performance and 300W of power at a moderate price. The key here of course is the very low noise levels the powersupply creates, so it is difficult to compare it against standard PSU's because in those cases wattage is usually the main selling point. Bottom line, good silent power supply, good build quality, less than ideal venting and airflow.