Arkua 628 Copper Core Heatsink Review
---
We receive a of email from readers who all have one simple question; "what heatsink should I get?" If they are looking for a quiet heatsink so they can get some sleep, or watch movies, I usually tell them to get a Zalman. If on the other hand they are looking for a high performance heatsink I tend to suggest two companies over and over. One of those companies is Thermal Integrations and the other is Arkua. Both make heatsinks based on the same principle, and that principle is extremely efficient.
Sure Coolermaster, Vantec and Thermaltake have made some good heatsinks in the past, but when it comes to the best performance per dollar, it is Arkua and Thermal Integrations heatsinks which usually stand out (to be fair, we haven't tested that many Alpha heatsinks, so I can't really say either way how well they stand in comparison).
In any case, the 628 is one of the newer models from Arkua, and one that has more than its share of similarities to the original Thermoengine. This heatsink has tested extremely well, which is a bit surprising for its small size.
Heatsink Specsheet:

Model: 628
HS Material: Extruded Aluminum, Copper
Fan: Everflow 5000RPM, 12V, 0.2A
Fan Dim: 20x60x60mm
FHS Dimensions: 66x64x64mm
Weight: N/A
Made by:Arkua

Sold By: www.arkua.com.tw
One of the more interesting parts of the Arkua 628 is the recessed section which has been cut out of the center. After removing the fan, clip and other parts we can see the top of the copper slug which has been inserted into the center of the heatsink.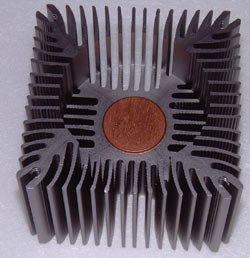 The copper is press fit into a space which is just slightly smaller than its outside diameter so the two metals make very good thermal contact. It would be pretty useless to set in the copper block, an then fill in the spaces with thermal compound after all!
The top of the copper is not finished in any way because there is really no need for ti to be, but the base has been cut flat along with a bit of the surrounding aluminum so that it makes a perfect mounting surface. The last thing we would really want to see is the copper sticking up above the surface of the surrounding aluminum.