NengTyi NW6700 Copper Socket 478 Heatsink Review
---
We first reviewed NengTyi's heatsinks in 2000 after meeting with them during Comdex Fall in Las Vegas. I remember one day a few months latter getting a 30 pound box from Taiwan with 20 or so heatsinks, NengTyi's entire product line at the time.
Those heatsinks have long since been eclipsed by the heat production of today's faster and higher wattage AMD and Intel processors. Now we are looking at a new generation of NengTyi heatsinks and this time around things are drastically different. The small box which recently arrived at our labs was opened to reveal full copper heatsinks - everything from the base, to the fins, to the fan shroud was copper. In terms of cooling hot chips copper is better than gold, literally.
Heatsink Specsheet:

Model: NW6700
Material: Copper
Fan: Sunon 5000RPM, 12V, Twin BB.
Fan Dim: 15x70x70mm
HS Dimensions: 66x83x68mm
Weight: N/A
Made by:Neng Tyi
Cost: ~$50USD

Sold By: www.nengtyi.com.tw
The NW6700 weighs nearly a pound and based on a tried and true interlocking fin design which has been gaining a lot of following recently. The heatsink is a massive testament to copper, and is stamped with the Nexus logo on the sides. With this much copper the NW6700 is going to bring some good performance to Pentium 4 users.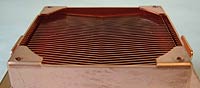 It is difficult to see exactly how much the fins on the center of the heatsink are bent, but they do taper down slightly.
Anther method used to improve airflow down through the fins is to raise the base of the fan a few millimeters above the fins of the heatsink. This promotes better airflow in general.