Scythe Kamakaze AthlonXP / Pentium 4 Heatsink Review
---
It's becoming more and more common to find heatsinks able to fit on both Intel and AMD processors. From the manufacturers perspective, this duality simply translates into more sales and less costs since they can sell the same heatsink for either processor type.
We've become aware that this flexibility usually comes at a price however, as the drastically different characteristics of each CPU necessitate equally unique thermal design criteria. The Scythe Kamakaze heatsink tries to solve all these issues, and comes with all the necessary hardware to cool both types of processors. As we review this heatsink we'll be looking closely to see just how well it handles both cooling applications.
The Kamakaze heatsink looks remarkably similar to the Alpha Novatech PAL8942 which was one massive, and very effective heatsink. Perhaps then, it is just a coincidence that both Alpha Novatech and Scythe are based in Japan. In any case, the Kamakaze is an interesting heatsink because it is set up to work on both Intel Pentium 4 and AMD AthlonXP processors thanks to a complex mounting mechanism. Below you can see the Scythe Kamakaze configured for Socket A processors, but with the turn of a few screws it can just as easily be set up for an Intel system.
Heatsink Specsheet:

Model: Kamakaze
HS Material: Cold forged Aluminum with Copper base
Fan: 1300-3400 RPM, 12V
Fan Dim: 25x80x80mm
FHS Dimensions: 87x70x70mm
Weight: 690 grams
Application: SocketA/478
Made by: Scythe Co. Ltd.

Sold By: www.scythe-usa.com
I found the clipping system a bit difficult to work with and somewhat finicky since screw pressure is used to apply force to the processor below. By this method it is very easy to tighten the screws unevenly, and apply force unevenly on the CPU. That being the case, the heatsink could be propped up on just one corner of the processor, and not really even be making any firm contact with the rest of the heat spreader surface (in the case of a Pentium 4).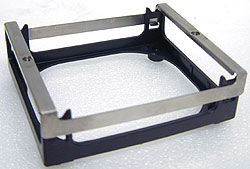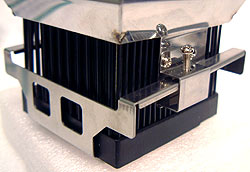 The retention systems are made from stainless steel and work fairly easily for the user. Each clip screws into the heatsink at a single point and then clips into the HSRM or socket to hold the Kamakaze firmly in place. Getting the socket 478 version on the socket can be a challenge though.