Swiftech Quiet Power FS020-H2OC Barebones
A Liquid Cooled Computer for the masses
---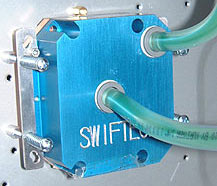 Swiftech are the company we look to for top of the line heatsinks, exotic TEC and liquid coolers, and now self enclosed liquid cooling systems. The model we have been working with for the past few weeks is the FS020-H20C, and it is a pretty impressive assembly of liquid cooling components.
As with other Swiftech cooling equipment, the price of the Quiet Power liquid cooled server case is at the top of the curve, retailing for $399USD.
For that investment you receive a fully functional system (waterblock, heat exchanger, pump, fans and all tubing) which arrives pre-filled with fluid and is essentially just waiting for the motherboard, single processor and power supply to be installed.
Other variations feature different assortments of equipment, but you may as well just go to Swiftech's site and have a look if you are interested in bits and pieces.
The system we are reviewing is not cheap, and not everyone can realistically spend this amount of money on an enclosure and cooling system so it is really up to you to justify the expense yourself. Thinking back to the very first project we did on Frostytech, a self contained liquid cooled computer running a Celeron 366 at 504MHz, I can say that the Quiet Power system is an easy way to jump head first into liquid cooling without a lot of hassle.
At the time of our original watercooling project, which would have been March 1999, we spent about a week and $500CDN building the self-contained liquid cooled system - and that did not include any of the computer hardware. To accomplish that project we had to scout around for a suitable case, buy the necessary tools and drill bits to cut blowholes, source out water pumps, radiators, tubing, build a waterblock, and then assemble the whole lot.
It was a hell of a lot of fun to do and that is probably the only real complaint I can have with a pre-built system like this. Building your own personal cooling system, if you have the means to do it, is half of the fun, and that just isn't here unless you start modding and improving on what Swiftech offer up.
John Guest Fittings
There are of course benefits to going the pre-built way. For instance the John Guest push-to-connect fittings that Swiftech use are undoubtedly one of the easiest and most reliable means of quickly connecting tubing up to the various components in a liquid cooled system such as this.

The connectors work with many different types of semirigid plastic tubing, even some soft metal, and are rated to about 150PSI. Made from acetal with nitrile O-rings and stainless steel collets there are no sources of corrosion in the connector.
The John Guest fittings work like this; the semi-rigid plastic tubing is inserted into the fitting and pushed past an O-ring to the internal tube stop - stainless steel teeth on the collet then grip the tubing for a leak proof connection. To remove the tubing a special tool holds the collet against the filling so that the stainless steel teeth can disengage from the tubing and allow it to slide out. Very simple, and very quick to use.
Lab supply companies like Cole Parmer sell the John Guest fittings at 'lab supply' prices, but maybe Swiftech will begin offering small assortments of fittings in the future to tweakers looking to expand onto the Quiet Power system, or assemble their own. We've already been toying with several ideas to incorporate a large reservoir onto the back of the Quiet Power system, and perhaps add some TEC assisted active fluid cooling by means of a Lytron heat exchanger.