Rise Above Ambient Temp. (c)
Mfg.
Model
27mm large copper block
15mm small copper block
27mm large copper block
15mm small copper block
50W
50W
100W
100W
1
Thermal Integration
TI-V77L
12.6
17.9
31.0
37.1
2
Swiftech
MCXC370
16.9
22.0
32.1
44.3
3
Vantec
CCK-6027D
18.0
22.2
37.5
46.0
4
OCZ
Gladiator
12.0
26.0
29.2
49.0
5
Swiftech
MCX370
19.7
23.8
38.0
53.3
6
Zalman
CNPS6000-Cu
21.6
29.0
40.8
53.4
7
AVC
112AM1
21.8
28.1
45.3
54.8
8
Thermaltake
Volcano 6cu+
13.8
28.8
32.1
57.9
9
Spire
5T060B1H3R
16.0
30.8
37.9
58.4
10
Thermalright
CB-6L
25.7
33.1
49.2
68.1
11
Fortis
A92
18.9
39.1
41.1
71.1
50W
50W
100W
100W
Conclusion:
Well the CNPS6000-Cu does not manage to come in under the 50 degree Celsius mark in our test setup (100W load, small interface die), but it at least comes in toward the lower end of that scale.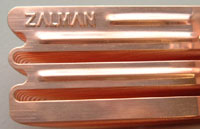 If we take into consideration other quiet heatsinks, then the Zalman CNPS6000-Cu immediately falls into the category of a quiet performance heatsink. Faced off with the super loud performance heatsinks it can't quite compete at that level, and is more at home in the very good to average cooler range.
Zalman have taken their very unique concept and continued to move forward with it, introducing new ideas and new tools to help make their cooling system quieter, and more user friendly. This is not a quiet heatsink for lightweight processors, but rather an extremely quite heatsink and fan solution capable of cooling the newest Athlon XP.
As always, the only restrictions with the Zalman coolers are the case that the user has. Small cases with the power supply over top of the processor will not enable you to use the CNPS6000-Cu because it will be impossible to position the fan. Which brings to mind one other point. In the past it was difficult to correctly position the fan because it was fixed to the mounting point. It was good to see that these problems have been addressed, and not it is simple to reposition the fan over the processor for the best possible cooling results.