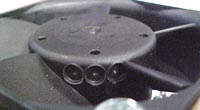 The Papst fans are built solidly, but still manage to produce a sizeable degree of noise. One of the nicer points is that Papst do try their very best to diminish vibrations by balancing the impeller assembly. If you look at the side of this particular impeller you can see four small drill holes which were used to remove material and true up the rotational stability of the unit.
As always, you can listen to this heatsink by clicking on the headphones to the right of the waveform images. The acoustic sample is about 10 seconds in length and is stored in MP3 format.
FrostyTech Acoustic Sampling Chamber (~10 sec)
Spectral view.

Standard Waveform view.
(Listen to an MP3 recording of this heatsink by clicking on the headphones)
Synthetic Temperature Test Results: *Ranked according to 100W small interface die test results.
FrostyTech Synthetic Temperature Test Platform Results
Mfg.
Model
Ambient Temp.
27mm large copper block
15mm small copper block
27mm large copper block
15mm small copper block
Thermal pad
No. Fans
Fan Noise
Clip force
50W
50W
100W
100W
1
Thermal Integration
TI-V77L
26.5
39.1
44.4
57.5
63.6
grey
1
med
med
2
Vantec
CCK-6027D
27.4
45.4
49.6
64.9
73.4
none
1
med
med
3
OCZ
Dominator
26.5
37.7
50.9
52.4
74.2
none
1
loud
med
4
Swiftech
MCX370-0A
22.3
42.0
46.1
60.3
75.6
none
1
med
hard
5
Akasa
Silver Mountain
26.6
46.2
51.5
65.0
76.1
none
1
loud
med
6
Vantec
CCK-6035D-Retail
26.5
44.2
52.8
63.2
77.9
none
1
loud
med
7
Thermaltake
Volcano 6cu+
26.5
40.3
55.3
58.6
84.4
carbon
1
loud
med
8
Spire
5T060B1H3R
26.7
42.7
57.5
64.6
85.1
none
1
low
med
9
Thermalright
CB-6L
24.6
50.3
57.7
73.8
92.7
white pad
1
low
med
10
Fortis
A92
26.7
45.6
65.8
67.8
97.8
none
1
loud
stiff
50W
50W
100W
100W
This isn't a copper heatsink and that shows up immediately. The MCX370-0A sits in at about the fourth position in this list of reference coolers. At least it does for the moment, when we factor in the ambient temperatures and show the results in terms of the rise above ambient results things can often look quite different.