FrostyTech Synthetic Temperature Test Platform:
The FrostyTech Synthetic Temperature Test Platform consists of an aluminum block heated by a 120V 250 Ohm precision resistor producing 50W of heat. That heat is transmitted to the heatsink via the aluminum block and up through special copper die templates with thermistors embedded directly in them.
A temperature reading for a particular heatsink is taken once the temperature stabilizes in the copper die template. Since each of the die templates have the surface area of either a silicon topped or heatspreader-topped processor the flow of heat to the base of the heatsink accurately mimics a real life configuration.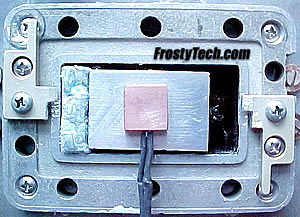 Shown with the copper die template for a silicon-topped processor, the synthetic heatsink test apparatus awaits a coating of AOS29KY non-silicon thermal compound and the ThermoEngine heatsink. A slightly larger copper die template was used to test the effective cooling ability of the ThermoEngine atop a heatspreader-based processor like an overclocked AMD T-Bird processor.
Synthetic Test Results:
Under normal circumstances the ThermoEngine can be used with its phase change thermal pad. As the heat increases the pad becomes liquefied and flows slightly producing a very uniform boundary. In our tests this compound was able to provide such a thermal interface that the overall temperature of the smaller copper die template remained stable at 46.7 degrees Celsius.
In the second test the thermal pad material was removed from the base of the Thermoengine, and some AOS 52029KY non-silicon thermal compound applied. This material has been used extensively by us, and generally performs a bit better than other, silicon based thermal compounds. The only draw back is that it is slightly abrasive and can scratch a smooth silicon core if not applied properly. In our tests with this compound as the interface material, the small copper die template reached a stable temperature of 47.6 degrees Celsius, slightly warmer then with the previous compound.
Finally we tested the ThermoEngine with the Quicksilver compound. This silver based thermal compound is electrically conductive, so it is important to not apply more compound then necessary, and remove any excess from near electrical contacts. During our tests the ThermoEngine in conjunction with the Silver-based thermal compound was able to achieve a stable temperature of 45.7 degrees Celsius. This represents an improvement of about 1 degree, but even one degree can be important.