Overclocking with the Frosty ACPSink
---
The Frosty ACPsink came about as a unique idea to create a heatsink capable of cooling the increased load put out by the Athlon processor. It's one of a kind design was as of yet unproven, so the time to prove it had arrived. In moments we would bolt the ACPsink onto a 550 Mhz Athlon to see if all the hard work had not been in vain or not.
The Athlon was prepped, its shiny black case removed and the standard aluminum heatspreader discarded. There would be nothing to stand in the way of the shiny silicon die and the lapped base of the ACPsink.
A small dab of AOS non-silicon based thermal paste was applied to the core and the mounting screws inserted through the holes in the PCB. The ACPsink was delicately brought into contact with the processors' core, and the screws tightened. Then we discovered a problem... We had drilled one of the mounting holes in the wrong place by little more than a millimeter. Enough of an error to make threading the last mounting screw impossible.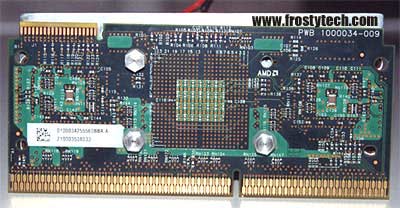 Rather than discard the entire heatsink and start again, something which we couldn't do, we managed to mount the ACPsink on the Athlon 550Mhz using just three screws by carefully adjusting the tension in each. A tricky maneuver - too much pressure on one side and we could have cracked the silicon. Too little pressure and the heatsink wouldn't make good contact and would thus be rendered useless.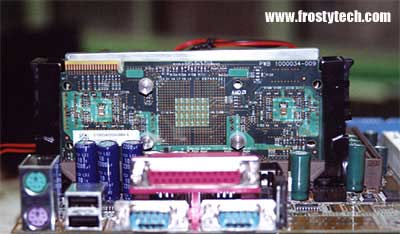 The ACPsink fits easily into the slot A and is short enough that it doesn't block a single DIMM slot. Good news for sure!