360° View - Scythe Ninja 4 Heatsink

---

Information on Frostytech's test methodology is available here.

The Scythe Ninja 4 heatsink ships with a 120x25mm fan that spins at 1500-600RPM and draws power from a standard 4-pin PWM motherboard header. The aluminum cooling fin array stands 105mm tall and measures 122x122mm square. The six 6mm heatpipes rise up from the base plate to spread out into four groups of three, corresponding to the four lobes the cooling fin array is divided into.

Each aluminum fin of the Ninja 4 heatsink measures 0.4mm thick and is spaced ~2.5mm from the next. The bottom-most cooling fin is elevated 41mm above the CPU for clearance of adjacent motherboard components. With the fan installed, the bulk of the Ninja 4 extends ~85mm from the center of the processor, so be sure to measure you motherboard clearances.

The aluminum fin array of the Scythe Ninja 4 heatsink is essentially separated into four nearly separate quarters measuring ~105x55.5x55.5mm. The nickel plated copper base plate measures 38x43mm in size and appears to be soldered to the heatpipes for lower thermal resistance. The copper heat spreader is between 2-5mm thick.
Base Finish and Flatness
Flipping a heatsink over to inspect the business end is often a simple indicator of overall cooler quality. More practically speaking, a heatsink is in many ways only as effective as the contact it makes with the processor - the flatter and smoother the better. Base finish is one of the criteria that Frostytech measure in the course of evaluating heatsinks, and it involves two distinct aspects. Surface Finish is the first; this is calculated with the aid of Surface Roughness Comparator that has a cross section of common machine surface finishes and their numerical surface roughness equivalents in microinches. The second is Surface Flatness. This is tested with an engineer's straight edge or proven flat surface, in two axes.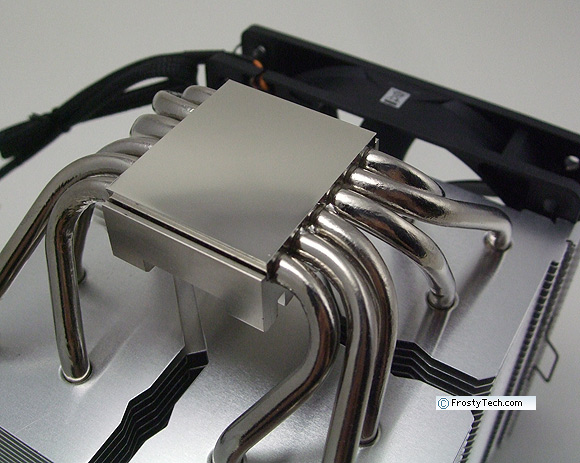 The turned copper base pate of the Scythe Ninja 4 heatsink is slightly convex in the axis perpendicular to the direction of the heatpipes and generally flat in the opposite axis (the edges are slightly raised from the plating process). The base has a very smooth surface texture, surface roughness is at or better than ~4 microinches.
Next up, let's see how this heatsink handles the heat compared to a selection of other heatsinks!