FrostyTech Mk.III Synthetic Thermal Heatsink Test Results

---

Intel Core i7, Extreme Edition class heatsinks tested at a 200W heat load.
Results based on readings from a 38x38mm copper interface die with 200W heat load on the Intel version of the Mk.III Test Platform. Temperature results listed for each heatsink were calculated by determining the rise over ambient temperatures at time of test. Information on Frostytech's test methodology is available here.
Socket LGA2011/1366 compatible CPU heatsinks

manufacturer:
model no.:
*fan speed:
200w thermal test (°c)
noise level (dba)

---

Coolermaster
Nepton 280L
high
10.6
58.8
Coolermaster
Nepton 140XL
high
11.8
59.6
Coolermaster
Seidon 240M
high
13.4
55.6
Silverstone
Tundra TD02
high
13.6
53.0
Coolermaster
Glacer 240L
high
14.1
52.5
NZXT
Kraken X60
high
14.5
60.7
Noctua
NH-U14S
17.0
47.3
Coolermaster
Seidon 120V
high
17.5
54.3
NZXT
Kraken X40
high
18.2
59.4
Silverstone
Tundra TD03
high
18.7
58.1
Silverstone
Argon AR01
high
18.8
53.0
Coolermaster
Eisberg 240L
high
19.1
50.5
Raijintek
Themis
high
19.7
52.8
Coolermaster
V8 GTS
high
20.0
59.7
Corsair
Hydro H80i
high
21.1
64.0
Noctua
NH-U12S
21.1
46.2
Raijintek
Ereboss
high
21.4
49.7
Zalman
Reserator 3 Max
high
21.6
58.9
Scythe
Mugen 4
high
21.7
41.9
Zalman
LQ315
high
21.9
50.8
Silverstone
NT06-P
high
22.1
51.6
Raijintek
Aidos
high
23.0
55.6
Zalman
LQ310
high
23.8
52.7
Zalman
LQ320
high
25.5
50.2
Dynatron
G556 (LGA1366/2U)
29.1
68.4
Dynatron
G555 (LGA1366/2U)
30.4
67.8
Dynatron
G666 (LGA1366/2U)
31.8
68.7
Silverstone
NT01-Pro
high
35.8
40.4
nPowerTek
NPH1366-140HC (LGA1366)
high
36.3
48.1
Dynatron
G199 (LGA1366/1U)
47.6
62.6
200w thermal test (°c)
noise level (dba)
*heatsinks are ranked according to the 200w thermal test results column (rise over ambient temp.). low temperatures with low noise levels are considered best. for reference heatsinks with variable-speed fans, only the high speed (12v) fan test result is included in the comparison sheet; more detailed results reside in each specific heatsink review.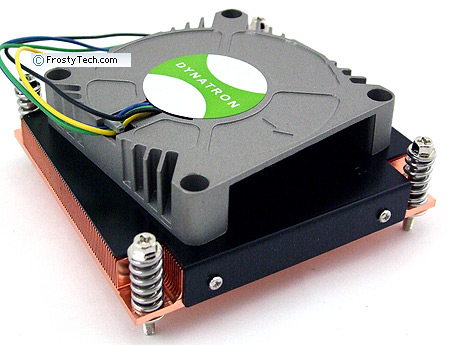 Frostytech's socket LGA2011 Intel synthetic thermal test platform stresses socket LGA2011/LGA1366 compatible heatsinks with a 200W heat load. Keep in mind that the AMD Integrated Heat Spreader and Intel LGA2011 Integrated Heat Spreader both measure ~38x38mm, so these test results can be extrapolated to AMD processor scenario's as well.
With a 200W heat load applied by the Intel LGA2011/1366 version of FrostyTech's synthetic thermal test platform, the Dynatron G199 1U Xeon server heatsink is able to maintain a temperature result of 47.6°C over ambient, at 6000RPM fan speed.
There are no other 1U heatsinks to compare results against, but as you can see from the three heatsinks marked "(LGA1366/2U)", the Dynatron G199 is 15.8°C off the mark from the next best performing 2U server heatsink.... not a direct comparison, but a relative frame of reference.
As cool air is only drawn into the heatsink through finely spaced copper fins on two sides (measuring, roughly 69x11mm per side), it goes without saying the Dynatron G199 1U Xeon server heatsink is only suited to filtered-air environments. The slightest accumulation of dust blocking these two intake ports will significantly restrict the volume of air being drawn into the heatsink body and impact its cooling performance correspondingly.
Related Articles:
The Top 5 best heatsinks for low noise and low temperature are ranked here. For more reviews on the latest heatsinks and cooling solutions, rely on FrostyTech's inventory of 400+ heatsink reviews. Here are a few other articles that you might enjoy as well.
- Noctua NH-L9i Low Profile Heatsink Review
- Raijintek Ereboss Heatsink Review
- Zalman CNPS2X Low Profile Heatsink Review
- Silverstone NT01-Pro Heatsink Review
- Raijintek Themis Heatsink Review
- Raijintek Aidos Heatsink Review
- Silverstone Argon AR01 Heatsink Review
- DeepCool Gammaxx S40 Heatsink Review