Coolermaster's Seidon 120V is an economical all-in-one liquid cooling solution that's especially suited to small PC cases and media centers. The compact 120mm aluminum heat exchanger ships with a single 120mm fan, so it doesn't take up too much space and make mounting to a rear/top fan vent cumbersome. The waterblock / pump is connected to the heat exchanger via 30cm of small diameter FEP tubing and installs easily onto the full range of Intel socket LGA775/115x/1366/2011 and AMD socket AM2/AM3/FM1/FM2 processors.
As you'd expect, Coolermaster's Seidon 120V ships fully assembled, plumbed and completely filled with a propylene glycol/water coolant. The user need only install it onto the CPU and mount the radiator to a fan vent on the case.
The waterblock features a micro skived copper base plate for good metal-to-liquid heat conduction and the heat exchanger is made from aluminum. A single 120mm PWM fan that spins at 2400-600RPM and moves upwards of 86CFM is supplied with the Seidon 120V. Users can attach a second fan if they desire, extra screws are included.
Coolermaster's Seidon 120V liquid CPU cooler retails for about $44 USD / CDN, which is extremely affordable given its excellent thermal performance.
Coolermaster Seidon 120V Self-Contained Liquid Cooling System

---




heatsink specsheet
manufacturer: coolermaster
model no.: seidon 120v (rl-s12v-24pk-r1)
materials: aluminum radiator, copper-base water block.
fan mfg: coolermaster a12025-24rb-4cp-f1

fan spec: 2400-600rpm, 12v, 0.37a

fan dim: 25x120x120mm
waterblock dim: 36.4x62x62mm
heat exchanger dim: 154x27x120mm
pump spec: n/a
flow rate: unknown
head: unknown
coolant: distilled water/propylene glycol
weight: est. 900 grams
includes: multi-socket mounting hardware, thermal compound, instructions.

---

Compatible with Sockets:
AMD - AM2/AM3/FM1/FM2
Intel - LGA2011/1366/115x/775
Est. Pricing: $44USD ($44CDN)
Seidon 120V Water Block
The pump head / water block measures 36.4 x 62 x 62mm in size and mounts directly onto the processor. The only information about the pump Coolermaster make available is that it's rated to 70,000 MTBF.... Flow rate, pump head and pump speed are all undisclosed. The pump itself is quiet under power and draws power from one motherboard fan header (12v, 0.3A).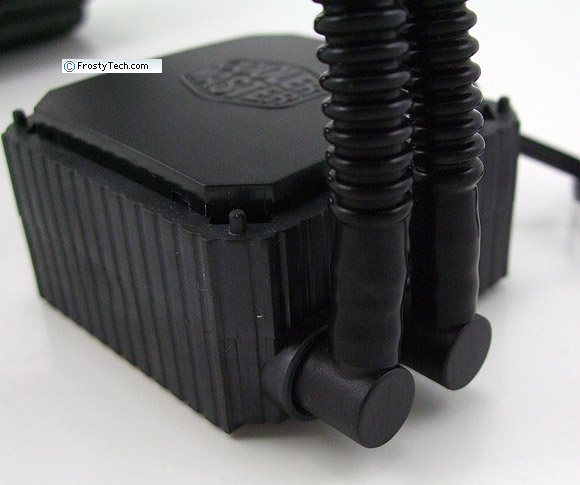 Each plastic pipe connection swivels which makes routing the stiff FEP hoses a little bit easier initially. Once the FEP tubing warms up it tends to adopt the new position and stress relieve somewhat. The corrugated FEP tubing is 9.5mm O.D.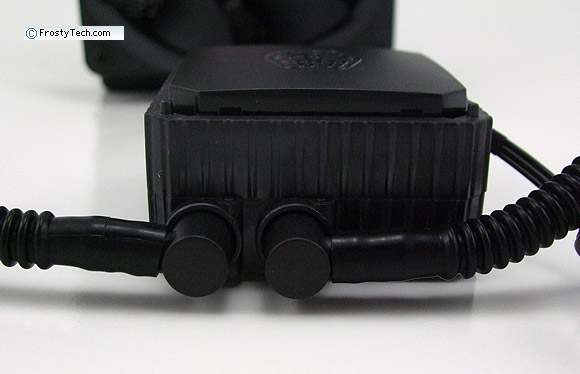 Swivel pipe connections
CPU-to-Liquid Heat Exchanger
The working end of Coolermaster's Seidon 120V is a micro-skived copper plate, but we can't show you this because of the tamper-resistant assembly screws. Generally speaking, on the liquid side of this plate there should be a row of very tiny skived copper fins about 3-5mm tall across which the pump forces coolant to flow. Removing the plastic cap to the pump head will reveal the pump circuitry, but mostly empty space.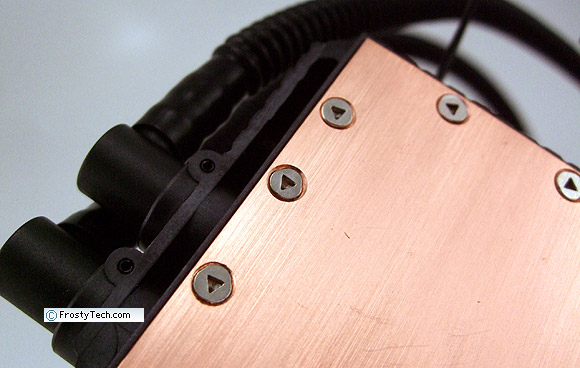 The waterblock/pump head
Based on previous all-in-one liquid CPU coolers Frostytech has examined, the copper base plate should be ~2-3mm thick and incorporate a ~30x30mm patch of micro-skived copper fins which increase the surface area of heat conducting metal in contact with the liquid coolant.
Liquid-to-Air Heat Exchanger
The aluminum heat exchanger shipped with Coolermaster's Seidon 120V measures 154 x 27 x 120mm in size and is compatible with 120mm fans. To install the Seidon 120V you must have a PC case with a rear/top 120mm fan vent. The heat exchanger mounts to the inside of the chassis with four screws through the fan vent. Generally, it's best to have the heat exchanger fan exhausting air out the PC chassis.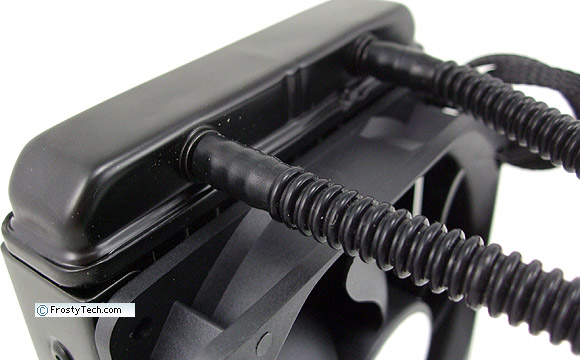 The 120mm fan supplied by Coolermaster operates at 2400RPM. The effective cooling area of the 27mm thick heat exchanger is 120x110mm.
Tubing
The heat exchanger is connected to the waterblock by 30cm of Fluorinated Ethylene Propylene (FEP) corrugated plastic tubing. The black plastic corrugated tubing is ~9.5mm in diameter and its max bend radius is estimated at ~20mm.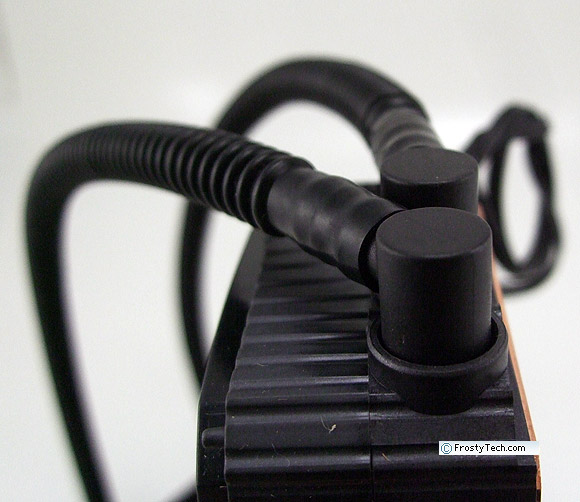 FEP Tubing
The tubing is stiff and kink resistant. The barbs on the radiator end are metal, those on the pump head are glass fiber impregnated plastic. The pump head barbs swivel in one axis.
Installation Hardware
The Coolermaster Seidon 120V is compatible with Intel socket LGA2011/1366/115x/775 and AMD socket FM2/FM1/AM2/AM3 processors. The cooler ships with a universal motherboard bracket and a pair of metal mounting plates that attach to the pump head to facilitate each particular socket.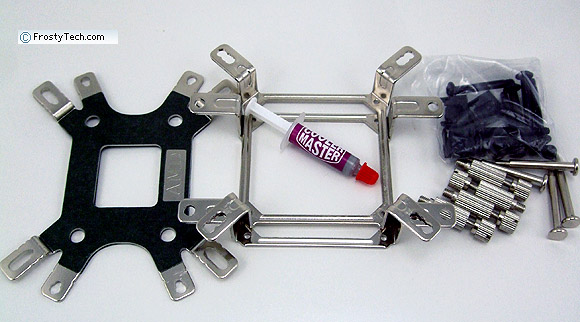 This heatsink will be tested on FrostyTech's Intel and AMD version of the Mk.II synthetic thermal temperature test platform, and compared against hundreds of reference Intel and AMD heatsinks. The whole test methodology is outlined in detail here if you'd like to know what equipment is used, and the parameters under which the tests are conducted.