Zalman released three water coolers in the hand of PC enthusiasts earlier this year, in this review Frostytech is testing out the LQ315 model - the middle child as it were. Like most water coolers on the market right now this system is designed and built for OEM use by Asetek. Standardized build quality, coolant formulation and skived copper water blocks are balanced out by varying the thickness of the 120mm liquid-to-air heat exchanger.
The LQ315 ships fully assembled, plumbed and filled with a coolant. It installs onto Intel socket LGA115x/1366/2011 and AMD socket AM2/AM3/FM1/FM2 processors. It uses a 120mm wide aluminum heat exchanger equipped with a single 120mm PWM fan that operates at 2000-900RPM. The pump/waterblock is built around a novel micro-skived copper base plate that is connected to the heat exchanger via a 30cm length of flexible rubber tubing.
Zalman's LQ315 water cooler retails for about $91 USD / CDN. In this review Frostytech will take the extra step of testing the LQ315 with a second fan attached to the rear of the radiator.
Zalman LQ315 Self-Contained Liquid Cooling System

---




heatsink specsheet
manufacturer: zalman
model no.: lq315
materials: aluminum radiator, copper-base water block.
fan mfg: zalman zp1225alm

fan spec: 2000-900rpm, 12v, 0.2a

fan dim: 25x120x120mm
waterblock dim: 32x72x72mm
heat exchanger dim: 38x153x120mm
pump spec: n/a
flow rate: unknown
head: unknown
coolant: distilled water/propylene glycol
weight: est. 700 grams
includes: multi-socket mounting hardware, thermal compound, instructions.

---

Compatible with Sockets:
AMD - AM2/AM3/FM1/FM2
Intel - LGA2011/1366/115x
Est. Pricing: $91USD ($91CDN)
The pump head / water block measures 32x72x72mm in size and mounts directly onto the processor. In the image below you can see how the LQ315 unit at left compares to the economy LQ310 unit at right. No information is disclosed about flow rate, pump head or pump speed... but we do know it's made by Asetek. The pump doesn't generate much noise and power comes from a single 3-pin motherboard fan header.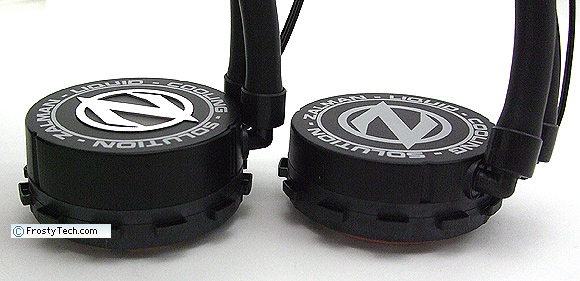 The emblem behind the Zalman logo is illuminated with blue LEDs when the pump is on. This is not just about looks, with the computer on there's no way to tell if the pump in functioning so a light is a good indicator everything is powered.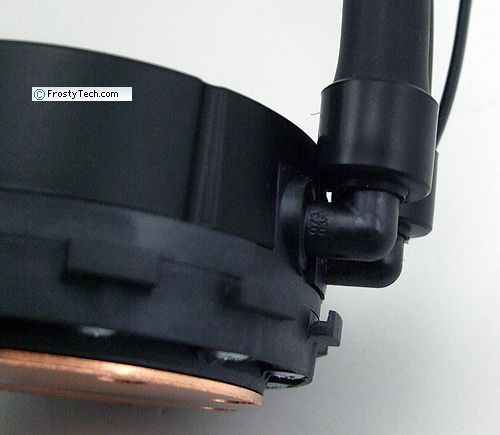 The 11mm OD rubber tubing connects to the waterblock via swivelling 90-degree plastic pipe connections. This makes routing hoses a little bit easier, but if temperatures rise too high (due to failure, or forgetting to plug the pump in) the pressure can force coolant to leak out the swivel joint.
CPU-to-Liquid Heat Exchanger
Inside the LQ315 waterblock we find a micro-skived copper plate, stainless steel flow directing shield and combination O-ring/gasket.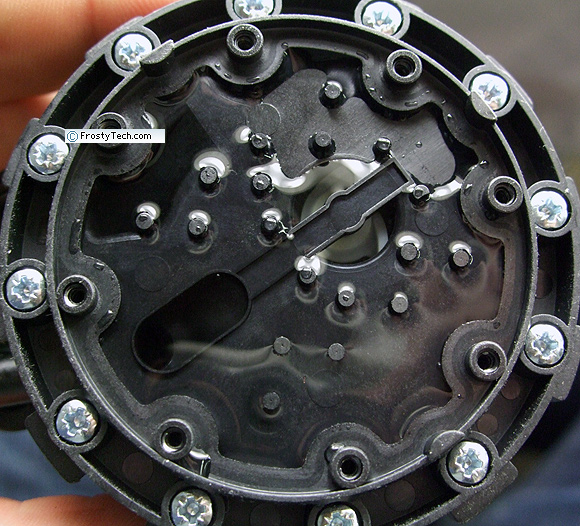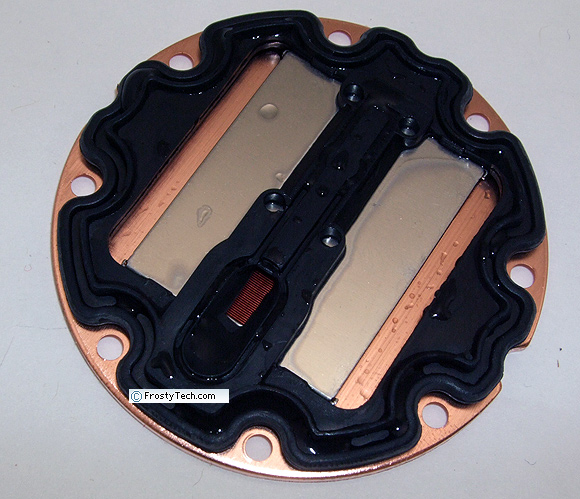 Propylene Glycol based coolant is pumped in through the little hole at the center-line of the heat spreader, it then flows through the micro-skived copper fins where it picks up the heat and exits at the sides where it moves on to the liquid-to-air heat exchanger.

The skived copper fins are very densely packed together to create the largest surface area possible in roughly a 30x30mm area. The skived copper fins are about 4mm tall. This waterblock design is common to the Zalman LQ310, LQ315 and LQ320 models.
Liquid-to-Air Heat Exchanger
The LQ315's aluminum heat exchanger is 38mm thick and measures 153x120mm in size. This heat exchanger ships with one 120mm (2000-900RPM) fan attached, but does support front and rear mounted fans. As with all other self-contained CPU liquid coolers, you'll need to install it into a PC case with at least one accessible (rear or top) 120mm fan vent. The heat exchanger mounts to the inside of the chassis with four screws through the fan vent.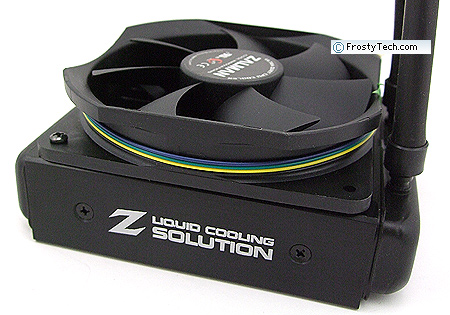 Installation Hardware
The Zalman LQ315 is compatible with Intel socket LGA2011/1366/115x and AMD socket FM2/FM1/AM2/AM3 processors. It does not support LGA775 processors. The cooler ships with two motherboard brackets and a pair of metal mounting plates that attach to the pump head to facilitate each particular socket.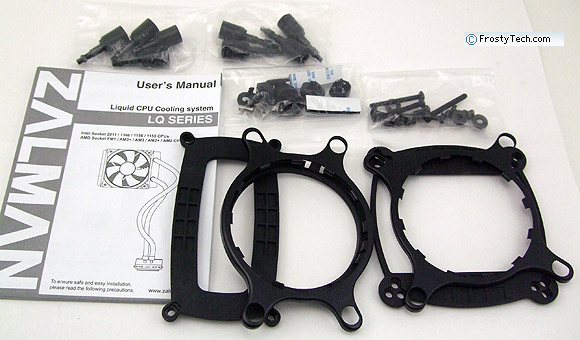 This heatsink will be tested on FrostyTech's Intel and AMD version of the Mk.II synthetic thermal temperature test platform, and compared against hundreds of reference Intel and AMD heatsinks. The whole test methodology is outlined in detail here if you'd like to know what equipment is used, and the parameters under which the tests are conducted.