360° View - NZXT Kraken X40 - Water Block

---

Information on Frostytech's test methodology is available here.

The NZXT Kraken X40 liquid cooling solution waterblock stands 32mm tall. The metal mounting brackets slip over the top of the pump head and lock into the barbs which surround it, so installation is pretty easy. Power is supplied to the pump by a 3-pin motherboard fan header which supplies power to a small LED that illuminates the NXZT logo when the pump is on. Both pipe connections swivel 180-degrees. Two PWM fan connections and USB motherboard header allow the Kraken X40 to communicate with NZXt's management software (not necessary for cooling).

The pump head measures 66mm in diameter.

The copper base plate is roughly 2mm thick and 54mm in diameter.
360° View - NZXT Kraken X40 - Heat Exchanger

---

Information on Frostytech's test methodology is available here.

The 27mm thick aluminum heat exchanger measures 139x173mm in size and supports one or two 140mm fans, mounted back to front.

Fans can be attached on either side of the heat exchanger. The heat exchanger tubing connectors are metal and do not swivel.
Base Finish and Flatness
Flipping a heatsink over to inspect the business end is often a simple indicator of overall cooler quality. More practically speaking, a heatsink is in many ways only as effective as the contact it makes with the processor - the flatter and smoother the better. Base finish is one of the criteria that Frostytech measure in the course of evaluating heatsinks, and it involves two distinct aspects. Surface Finish is the first; this is calculated with the aid of Surface Roughness Comparator that has a cross section of common machine surface finishes and their numerical surface roughness equivalents in microinches. The second is Surface Flatness. This is tested with an engineer's straight edge or proven flat surface, in two axes.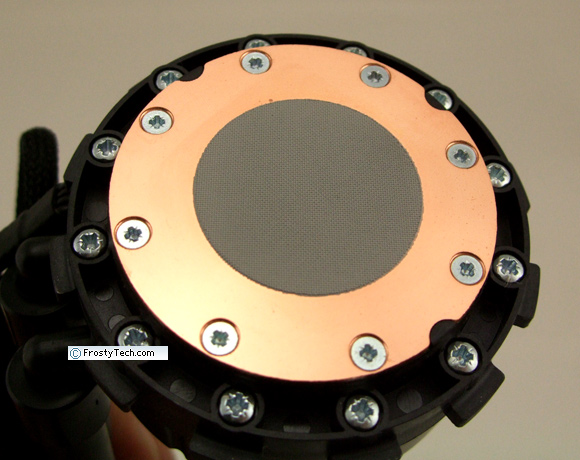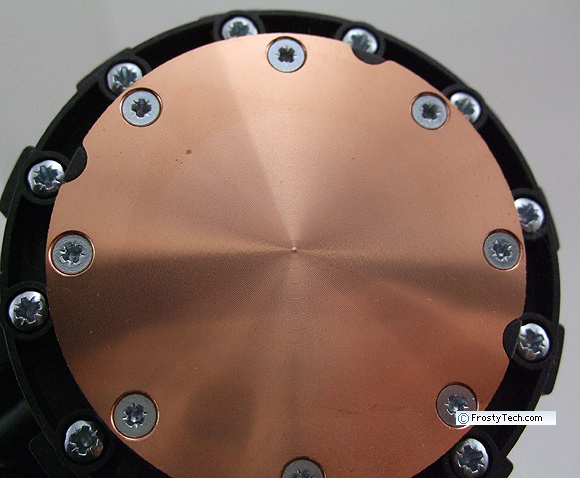 The copper base plate of NZXT's Kraken X40 waterblock has a machined finish with a surface roughness of approximately ~16 microinches. The manufacturer ships it with a pre-applied circle of grey thermal compound. The copper base plate is very slightly convex in both axes.
Next, acoustic measurements and then AMD and Intel synthetic thermal test result charts.