On the test bench today we have NZXT's Kraken X60, a large all-in-one CPU watercooling solution that's built around a substantial 312x140mm aluminum heat exchanger which supports two, 140mm fans placed side-by-side. The increased surface area of such a large heat exchanger may quickly shed heat to the surrounding environment, but unless you're building a gaming rig in a cavernous Extended-ATX case, mounting the Kraken X60 may become a challenge.... so measure your clearances first!
If you have a small computer case I'm going to stop you right here now and direct your attention towards the compact Kraken X40 model . The Kraken X40 slips into mid-tower cases easily and trails the Kraken X60 by ~5°C on Frostytech's 200W synthetic thermal test platform.
The Kraken X60 ships with two 140mm PWM fans that spin at 2000-800RPM and move 54-98CFM of air at 0.8-2.2mmH2O air pressure. The pump-head / water block is designed by Asetek and stands 31mm tall, 72mm in diameter. Connecting the radiator and pump together are 39cm long, 11mm O.D. flexible rubber tubes. The tubing connects to the pump head via Asetek's standard, 180-degree swivel hose connectors. Inside the waterblock is a small pump and a micro skived copper water block.
NZXT's Kraken X60 liquid cooling system installs onto Intel socket LGA115x/1366/2011 (775 not supported) and AMD socket AM2/AM3/FM1/FM2 CPUs. The Kraken X60 retails for about $130USD / CDN and is covered by a 2 year warranty. The system ships fully assembled, plumbed, filled and ready to go.
NZXT Kraken X60 Self-Contained Liquid Cooling System

---




heatsink specsheet
manufacturer: nzxt
model no.: kraken x60
materials: aluminum radiator, copper-base water block.
fan mfg: fx-140krx-pwm

fan spec: (x2) 2000-800rpm, 12v, 0.59a
air pressure: 0.8-2.2mmh2o
air flow: 54-98cfm

fan dim: 25x140x140mm
waterblock dim: 31x72x72mm
heat exchanger dim: 312x138x27mm
pump spec: 2900rpm, 12v dc, 0.28a
flow rate: unknown
head: unknown
coolant: distilled water/propylene glycol
weight: est. 1000 grams
includes: multi-socket mounting hardware, thermal compound, instructions.

---

Compatible with Sockets:
AMD - AM2/AM3/FM1/FM2
Intel - LGA2011/1366/115x
Est. Pricing: $142USD ($142CDN)
Waterblock / Pump Head
NZXT's Kraken X60 uses the industry standard Asetek combination pump head / water block. This is a black, hockey-puck sized chunk of plastic 72mm in diameter and about 31mm thick. The waterblock / pump head mounts directly onto the processor with the aid of a low profile black mounting plate. The Kraken X60 pump head also has a USB header cable coming out it for the built-in fan speed controller and colour changing status lights which glow behind the NZXT logo. This may be a desirable feature for case modders looking to show of their system with a colour-coordinated logo, but keep in mind that you have install software and connect the USB header to get this working. For the sake of cooling performance, it has no bearing.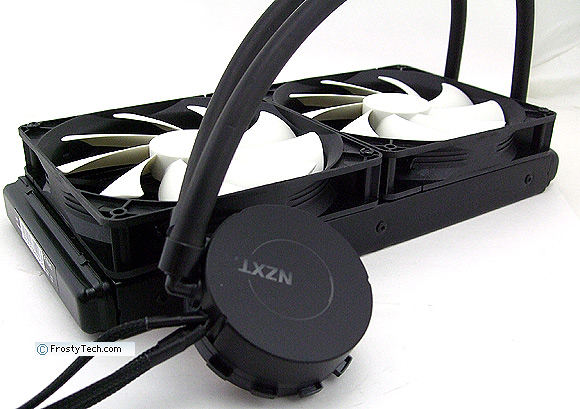 The only pump specification disclosed is the impeller speed (2900rpm). If we remove the waterblock's plastic top cover, you can see the pump motor, circuitry and cables for the integrated USB fan controller - there's not a whole lot of volume to the pump head, so if the CPU is on and the pump stops for whatever reason, tempeture rises very quickly.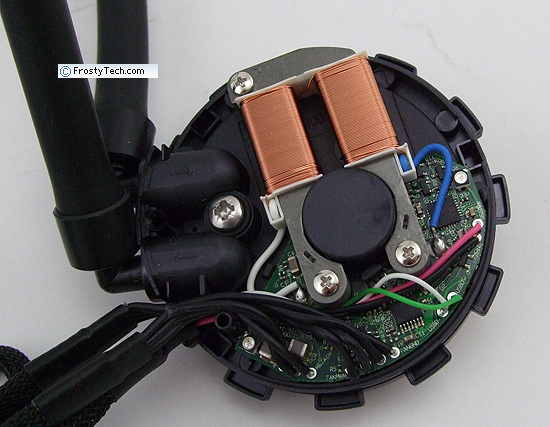 In operation the pump is very quiet. Power is supplied by a single 3-pin motherboard fan header (power draw is 12V, 175mA). The SATA power connector is for the fan speed controller if you decide to use it.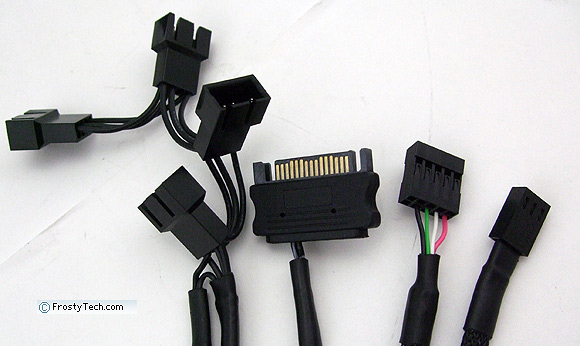 Cables going into the pump head: Fan-outputs, SATA, USB, power, power connector.
The 11mm OD rubber tubing connects to the waterblock via swivelling 90-degree plastic pipe connections. In the images below we demonstrate the range of movement.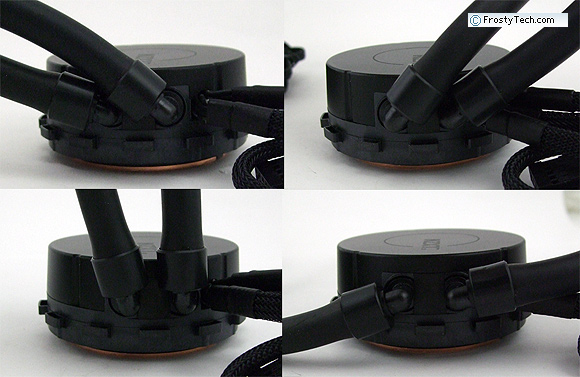 CPU-to-Liquid Heat Exchanger
The business end of NZXT's Kraken X60 waterblock is shown below, removed from the waterblock housing. What we have here is a micro-skived copper plate, stainless steel flow directing shield and combination O-ring/gasket (not shown).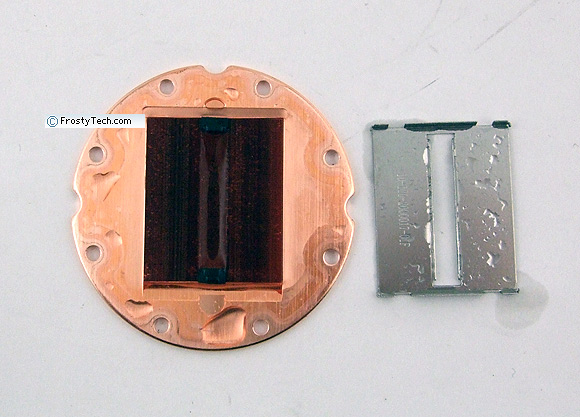 Propylene Glycol based coolant is pumped down into the slot along the center line of the micro-skived copper plate, where the stainless steel plate then forces it to flow through the micro-skived copper fins (where it picks up heat energy) before exiting at the side channels. From this point, the now heated coolant is pumped through the rubber tubes to the aluminum liquid-to-air heat exchanger where the heat is dumped into the surrounding air mass. Neat eh!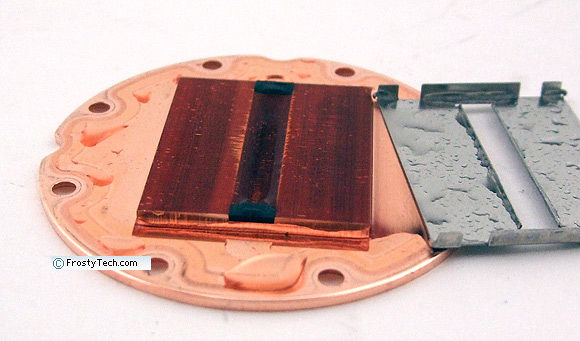 The skived copper fins are ~3mm tall and very densely packed together to create the largest surface area possible in a roughly ~33x28mm area.
Liquid-to-Air Heat Exchanger
The NZXT's Kraken X60 aluminum heat exchanger is 27mm thick and measures 312x138mm in overall size. The heat exchanger ships with two 140mm (2000-800RPM) fans attached. Best practice is to install the fans so they exhaust through the heat exchanger and out of the chassis. Fans can be installed to both sides of the heat exchanger, should you wish to double them up.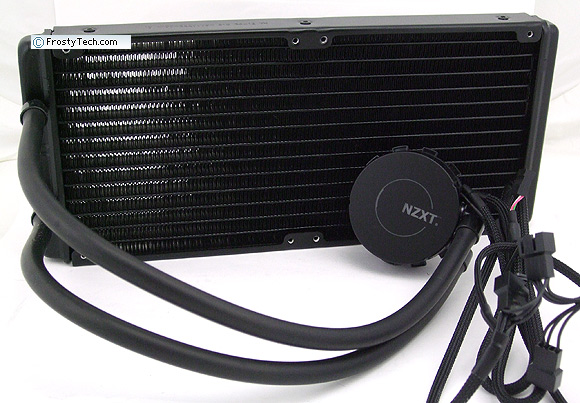 Though not explicitly stated, you will need a PC case with a pair of 140mm fan vents in the top or bottom panel to install the Kraken X60. The heat exchanger mounts to the inside of the chassis with severa screws through the fan vents.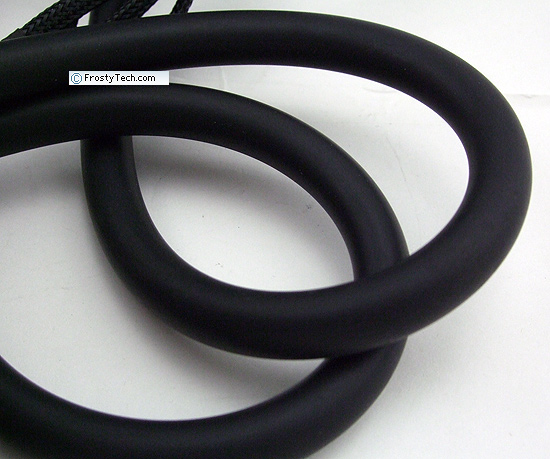 11mm OD rubber tubing.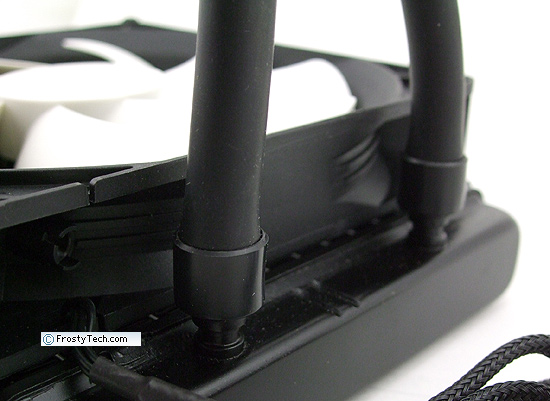 Installation Hardware
The NZXT Kraken X60 is compatible with Intel socket LGA2011/1366/115x (not compatible with LGA775) and AMD socket FM2/FM1/AM2/AM3 processors. The cooler ships with a couple plastic motherboard brackets and a pair of metal mounting plates that attach to the pump head to facilitate each particular socket. Instructions are pictographic.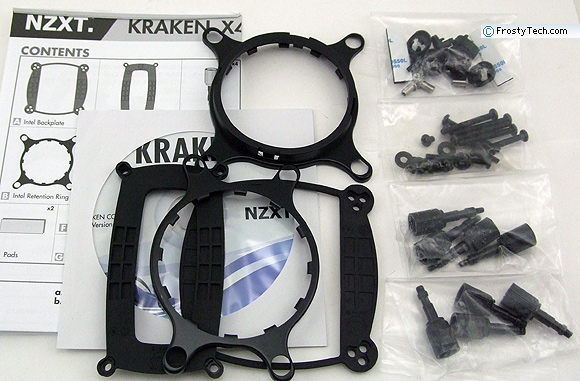 This heatsink will be tested on FrostyTech's Intel and AMD version of the Mk.II synthetic thermal temperature test platform, and compared against hundreds of reference Intel and AMD heatsinks. The whole test methodology is outlined in detail here if you'd like to know what equipment is used, and the parameters under which the tests are conducted.