To say the Silverstone Tundra TD03 CPU liquid cooler offers a unique minimalist design esthetic compared to similarly sized all on one coolers, is an understatement. The Tundra TD03 consists of a chrome plated metal waterblock with integrated copper base plate attached to a small 120mm heat exchanger via white FEP tubing. It looks more like something out of a Mac, than a PC watercooling system. As you'd expect with a 45mm thick heat exchanger, Silverstone are forced to supply two 120mm fans in an in-line push-pull configuration to get the necessary airflow moving through the heat exchangers' aluminum fins. The fans, with white impellers no less, run at 2500RPM to 1500RPM, placing the Tundra TD03 in a slightly louder class than most liquid coolers. Behind all the flourish, the Tundra TD03 cooler is otherwise a fairly normal offering, shipping fully assembled, plumbed and filled.
Users with compact computer cases will find this size liquid cooler ideal, but keep in mind that you'll need at least one free 120mm chassis fan mount to install this CPU cooler. The pump and waterblock are integrated into the same metal-body waterblock to keep everything compact and a 31 length of 10mm OD FEP tubing connects the heat exchange to waterblock.
Silverstone's Tundra TD03 installs onto Intel socket LGA775/115x/1366/2011 processors and AMD socket AM2/AM3/FM1/FM2 CPUs and retails for around $95 USD / CDN.
Silverstone Tundra TD03 CPU Liquid Cooling System

---




heatsink specsheet
manufacturer: silverstone
model no.: tundra td03 (sst-td03)
materials: aluminum radiator, copper-base water block.
fan mfg: (x2) silverstone as1225h12

fan spec: (x2) 2500-1500rpm, 12v, 0.30a

fan dim: 25x120x120mm
fan airflow: 92.5 cfm at 3.5mm/h2o
waterblock dim: 60x55x33.5mm
heat exchanger dim:159x124x45mm
pump spec: 2500rpm, 12v dc, 0.28a
flow rate: unknown
head: unknown
coolant: distilled water/propylene glycol
weight: 1063 grams
includes: multi-socket mounting hardware, thermal compound, instructions.

---

Compatible with Sockets:
AMD - AM2/AM3/FM1/FM2
Intel - LGA2011/1366/115x/775
Est. Pricing: $95USD ($95CDN)
Liquid-to-Air Heat Exchanger
Silverstone's Tundra TD03 utilizes an aluminum heat exchanger which measures 124mm tall by 159mm wide and 45mm thick. Unlike most liquid coolers on the market, Silverstone have wrapped the heat exchanger with grey aluminum sides and white plastic decorative plates to give it a more aesthetic appearance that should appeal to the case-window crowd, or closet Mac-lover.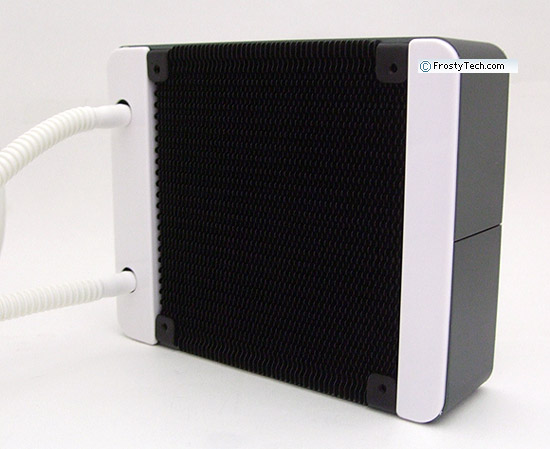 As with all other self-contained CPU liquid coolers, you'll need to install the Tundra TD03 into a computer chassis with at least one accessible 120mm fan vent. The heat exchanger mounts to the inside of the chassis with four screws passing through the fan vent.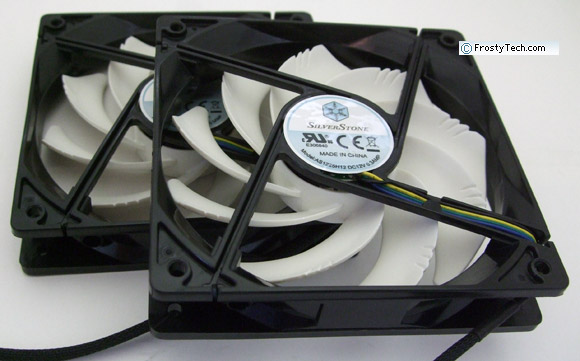 This heat exchanger ships with two Silverstone AS1225H12 120mm PWM fans that run at 2500RPM to 1500RPM.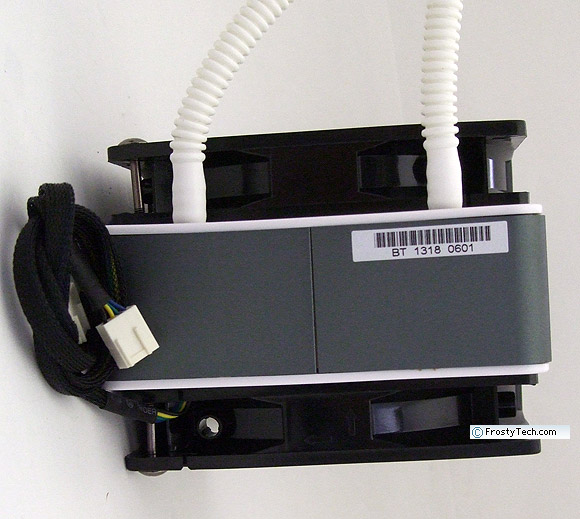 CPU-to-Liquid Heat Exchanger
The waterblock is unique in that it's the first we can recall testing to be made from what's essentially a chrome plated chunk of extruded aluminum. It will be interesting to see the long-term viability of this design if Silverstone hasn't figured out how to address dissimilar metal corrosion correctly... On the plus side, since the copper heatspreader is soldered to the rest of the waterblock there is literally no chance of leaks from that joint, and no chance of plastic snapping under the strain of mounting forces!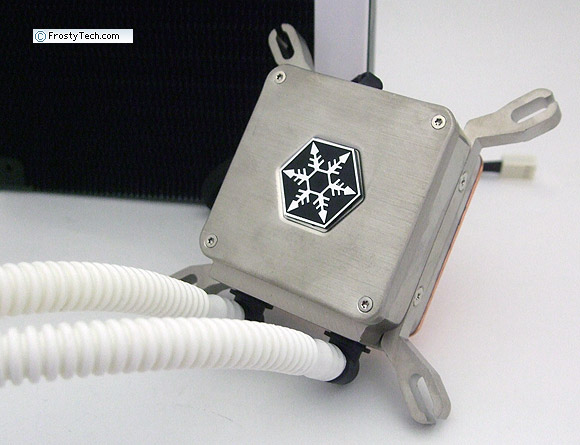 For all the metal the Tundra TD03 sports, it still curiously relies on plastic barbs for the white FEP tubing to connect to - creating a potential weak point for any user who mistakenly tries to swivel the white FEP hoses. Metal barbs would seem a safer and more robust choice here.
The working face of the CPU to liquid waterblock is most likely micro-skived copper fins, but since the copper plate is soldered in place we cannot open the waterblock and take a look.
Mounting Hardware
The Silverstone Tundra TD03 is compatible with Intel socket LGA2011/1366/115x/775 and AMD socket FM2/FM1/AM2/AM3 processors. The cooler ships with one motherboard bracket and two pairs of metal mounting brackets that screw onto the waterblock/pump head to accommodate each processor platform. A fan Y-splitter and thermal compound are also supplied.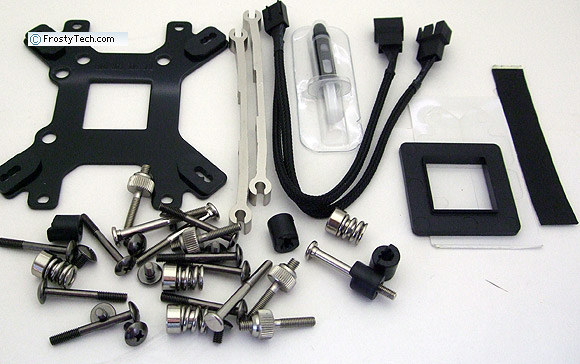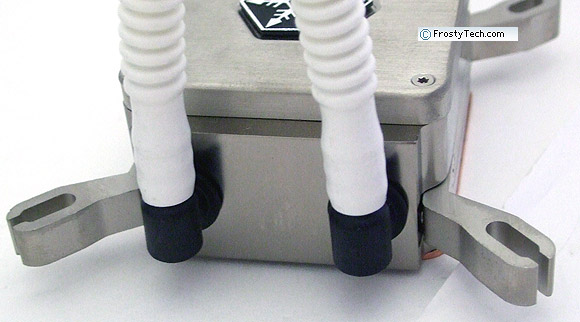 This heatsink will be tested on FrostyTech's Intel and AMD version of the Mk.II synthetic thermal temperature test platform, and compared against hundreds of reference Intel and AMD heatsinks. The whole test methodology is outlined in detail here if you'd like to know what equipment is used, and the parameters under which the tests are conducted.