360° View - Silverstone Tundra TD02 - Water Block

---

Information on Frostytech's test methodology is available here.

The metal waterblock/pump measures 34mm tall and roughly 55mm square. It features two 8mm wide slots cut into either side where aluminum mounting arms screw in place. A fill port is conveniently located in one of these slots, hidden out of view. Power is supplied to the pump by a 3-pin motherboard fan header. There is no internal illumination to indicate when the pump is operating, however.

The chrome plated aluminum waterblock has a footprint of 60x55mm and is equipped with a single 3-pin power connector. The 10mm OD white FEP coolant tubes are mounted on plastic 90-degree connectors which do not swivel.

The copper base plate that makes direct contact with the processor heatspreader is 1.5mm thick and measures 55x55mm in size. It is soldered directly to the waterblock, removing the chance of coolant leaks.
360° View - Silverstone Tundra TD02 - Heat Exchanger

---

Information on Frostytech's test methodology is available here.

The 45mm thick aluminum heat exchanger measures 124x278mm in length. The grey aluminum bezel hides a pretty standard heat exchanger. It supports two 120mm fans, mounted side by side. A 31cm length of white FEP tubing connects the waterblock to the heat exchanger.

Fans can be mounted on either side of the Tundra TD02's heat exchanger. The white 10mm OD FEP tubing is corrugated to help prevent kinking.
Base Finish and Flatness
Flipping a heatsink over to inspect the business end is often a simple indicator of overall cooler quality. More practically speaking, a heatsink is in many ways only as effective as the contact it makes with the processor - the flatter and smoother the better. Base finish is one of the criteria that Frostytech measure in the course of evaluating heatsinks, and it involves two distinct aspects. Surface Finish is the first; this is calculated with the aid of Surface Roughness Comparator that has a cross section of common machine surface finishes and their numerical surface roughness equivalents in microinches. The second is Surface Flatness. This is tested with an engineer's straight edge or proven flat surface, in two axes.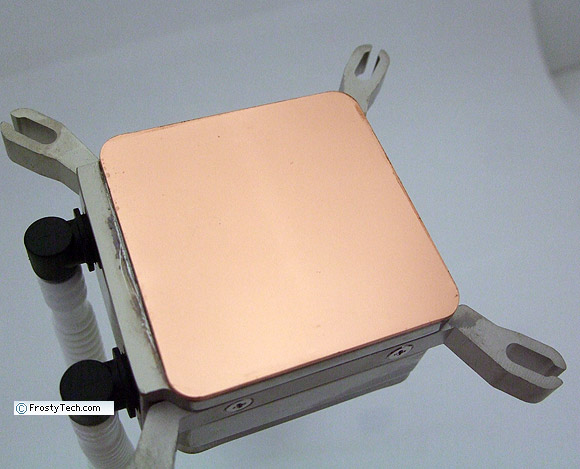 The copper base plate of the Silverstone Tundra TD02 has a machined surface finish with a surface roughness of approximately ~16 microinches. The copper base plate is very slightly convex in both axes.
Next, acoustic measurements and then AMD and Intel synthetic thermal test result charts.