AMD's FX-Series Liquid Cooling Heatsink ships pre-filled and is no more difficult to install than a standard heatsink. The CPU cooler installs onto any AMD socket AM2/AM2+/AMD3/AM3+/FM1/FM2 processor using standard hardware, the liquid-to-air heat exchanger needs only a 120mm rear case fan cut out to hang from. That being the only real requirement, AMD's liquid cooling system is basically orienting itself towards performance computer systems housed in full tower cases.
Like many of the self contained liquid cooling systems on the market right now, AMD's FX-Series Liquid Cooling Heatsink is a made by Asetek. From what we can tell, this unit is a modified version of the 130W TDP rated, Asetek 570LC liquid cooler. AMD provide scant little in the way of specs on this heatsink, which is why this review has taken longer than normal to get out the door... Now assuming AMDs FX-Series Liquid Cooling heatsink is a cross between the Thermaltake Water 2.0 Pro and the Asetek 570CL (all three of which are made by Asetek), we can expect thermal resistance on the order of 0.124C/W and a good MTBF of 50,000hrs.
What makes the FX-Series Liquid Cooler stand out is that AMD ship it with Chill Control V software and extra functionality the 570LC and Water 2.0 Pro units lack. The CCV software communicates with the pump by means of a USB header, monitoring fan and pump speeds, coolant temperature, the status of trigger alarms and a few other settings. If you like to monitor CPU temp religiously, this is the heatsink for your AMD Phenom or FX-Series processor!
As a bonus, the colour of the LED lights behind the big AMD FX logo on the water block can even be changed to match your colour scheme.
AMD FX-Series Liquid Cooling Heatsink

---




heatsink specsheet
manufacturer: amd (asetek)
model no.: 7441
materials: aluminum radiator, skived copper water block.
fan mfg: (x2) everflow r121225su

fan spec: (x2) 2340-800rpm, 12v, 0.40a

fan dim: 25x120x120mm
waterblock dim: 32x72x85mm
heat exchanger dim:152x119x50mm
pump spec: est. 2800rpm, 12v dc, 0.22a
flow rate: unknown
head: unknown
coolant: distilled water/propylene glycol
weight: ~1000 grams
includes: mounting hardware, thermal compound, instructions, software.

---

Compatible with Sockets:
AMD - AM2/AM2+/AM3/FM1/FM2

Est. Pricing: $60USD ($60CDN)
Heat Exchanger
The AMD FX-Series Liquid Cooler weighs upwards of 1000grams and ships with two 120mm PWM fans that operate at 2340-800RPM, producing little-to-moderate noise. The 152x119x50mm aluminum heat exchanger is identical to the radiator used on the Tt Water 2.0 Pro. Here it is without fans attached.
Take care when installing the unit so there is no chance of a barb being snapped off, while the coolant barbs on the radiator are metal, those on the pump head are plastic. The low evaporation rubber tubing is 11mm in diameter and relatively kink resistant.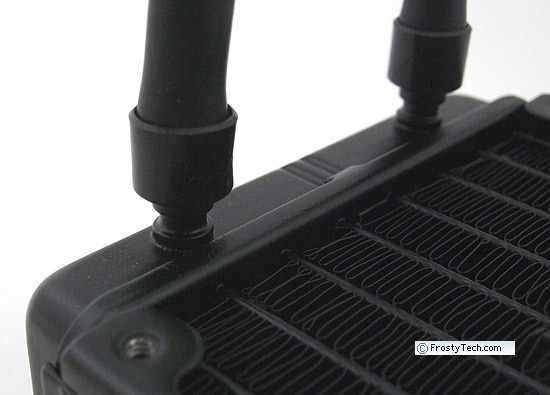 The coolant is a mix of distilled water and propylene glycol, from what we can gather.
Pump Head / Waterblock
A tiny impeller in the CPU block rotates at 2800RPM, pumping the coolant at an unspecified rate. Inside the water pump assembly is the skived copper water block you see below. The fin area measures 28x28x5mm in size, the copper heat spreader plate is about 1.2mm thick.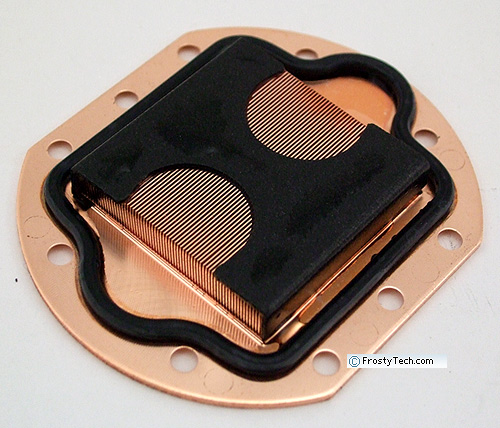 The black gasket matches up with fluid inlets so coolant is directed through the very narrow skived copper fins, ensuring a high degree of copper surface area in contact with liquid.
A standard 3-pin motherboard fan header supplies power to the water pump, the two 120mm PWM fans each have separate 4-pin power cables. A Y-splitter comes off the pump head, and if you're using the Chill Control V Software the fan speeds can be monitored and controlled quite easily this way. If you connect the fans to the pump without loading up the software, the fans run loudly at full speed.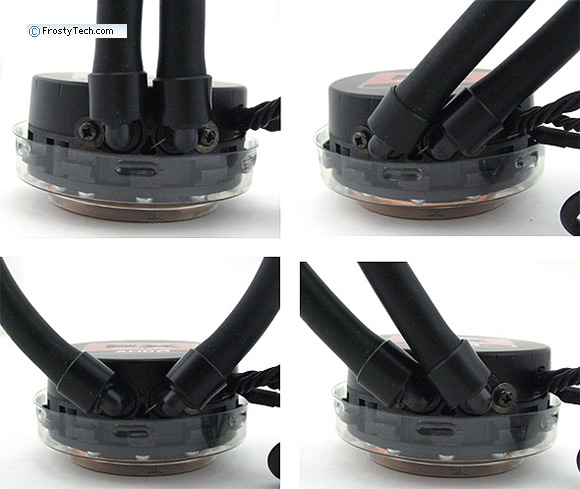 To facilitate easy installation of the water block, the rubber tubes swivel independently where they enter the pump head.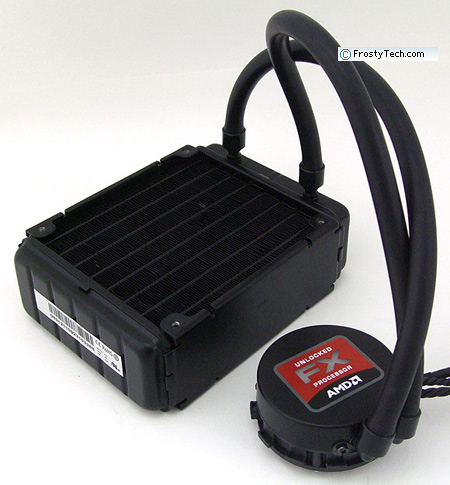 AMD's FX-Series Liquid Cooler is made up from three basic parts; heat exchanger, tubing and combination pump / reservoir / skived copper waterblock. The rubber tubing is 12" long.
Mounting Hardware
The AMD FX-Series Liquid Cooler Performer is compatible with AMD socket FM2/FM1/AM2/AM3 processors and ships with one motherboard bracket that engages the standard AMD rear motherboard support plate.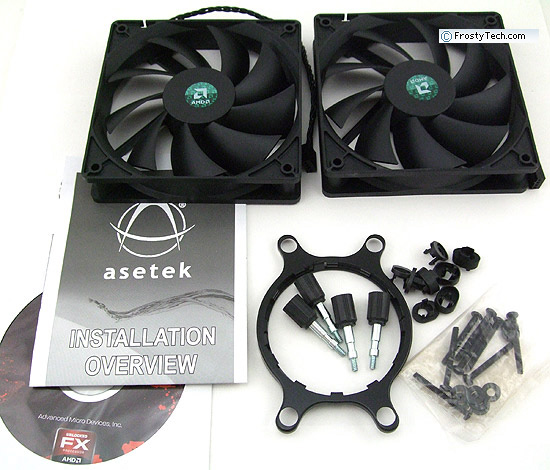 This heatsink will be tested on FrostyTech's AMD version of the Mk.II synthetic thermal temperature test platform, and compared against hundreds of reference AMD heatsinks. The whole test methodology is outlined in detail here if you'd like to know what equipment is used, and the parameters under which the tests are conducted.