360° View - Phanteks PH-TC14PE (Red) Heatsink

---

Information on Frostytech's test methodology is available here.

The two 140mm fans spin at 1200-900RPM and draw power from separate 3-pin motherboard headers (or one with the included y-splitter). The five 8mm diameter heatpipes thread through twin 140x52x115mm aluminum fin stacks which are spaced about 33mm apart. The anodized aluminum fins measure on this heatsink are 0.4mm thick and spaced 2.0mm apart. The leading and trailing edges of the fins have a serrated pattern.

The Phanteks PH-TC14PE heatsink stands 168mm tall, the bulk of it is elevated 47mm for clearance of adjacent board mounted devices. The five 8mm diameter nickel plated copper heat pipes extend outward from the base to a ~16mm spacing as they pass through the fins. The nickel-plated copper base plate is 3-6mm thick.

Looking at the top of the Phanteks PH-TC14PE (red) heatsink we two separate fin towers 140x50mm in size, each stands 115mm tall. The copper base plate measures 45x42mm in size, all five heatpipes are soldered in place.
Base Finish and Flatness
Flipping a heatsink over to inspect the business end is often a simple indicator of overall cooler quality. More practically speaking, a heatsink is in many ways only as effective as the contact it makes with the processor - the flatter and smoother the better. Base finish is one of the criteria that Frostytech measure in the course of evaluating heatsinks, and it involves two distinct aspects. Surface Finish is the first; this is calculated with the aid of Surface Roughness Comparator that has a cross section of common machine surface finishes and their numerical surface roughness equivalents in microinches. The second is Surface Flatness. This is tested with an engineers straight edge or proven flat surface, in two axis.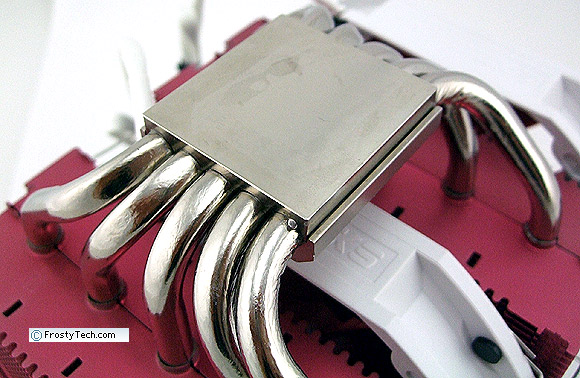 The Phanteks PH-TC14PE (red) heatsink has a machined nickel-plated copper base with a surface roughness of approximately ~16 microinches, which is considered very good. The base is perfectly flat in one axis and very slightly convex in the opposite.
Next up, let's see how this heatsink handles, first up the acoustic tests!