To install Corsair's Hydro H80 heatsink you must have a PC case with a rear 120mm fan vent punched in the back panel. The heat exchanger mounts to the inside of the chassis with those fan holes, and according to Corsair should be set up so the fans draw cool air into the case from the outside, rather than exhausting hot air outside the PC.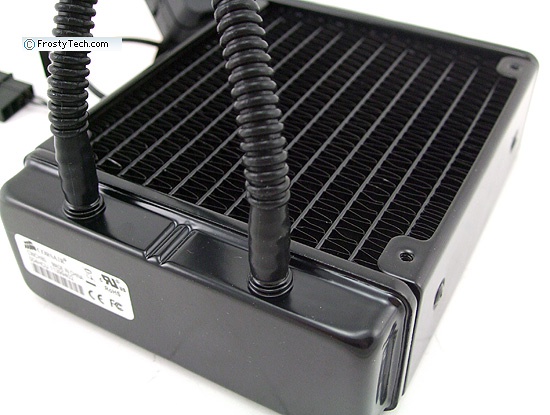 For this to really work well, the case must have other vents so air can exit the chassis and stop it from pressurizing or back pressure will muck about with airflow. The two 120mm fans operate at speeds a little below 2600RPM and 1300RPM to move air through the aluminum heat exchanger. It's best to keep both fans operating at the same speed.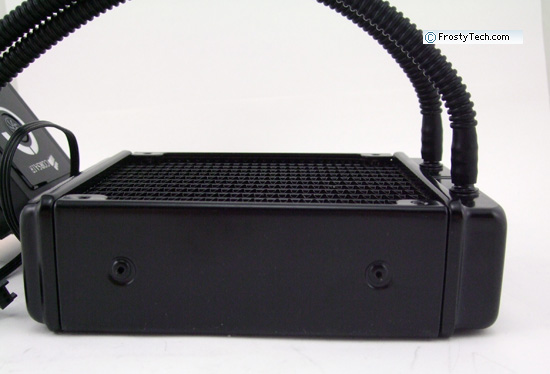 The effective area of the aluminum heat exchanger is 112x120mm. Overall radiator dimensions are 120x155x45mm without fans, with two fans the thickness changes to 93mm.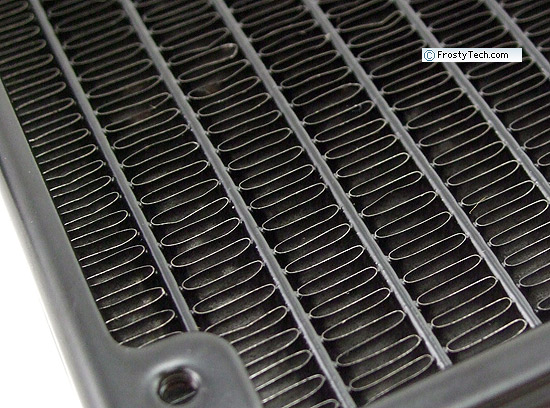 The aluminum heat exchanger is connected to the waterblock/pump head by 24cm of Fluorinated Ethylene Propylene (FEP) corrugated plastic tubing. The black plastic corrugated tubing is ~8-9mm in diameter and its max bend radius is estimated at ~20mm.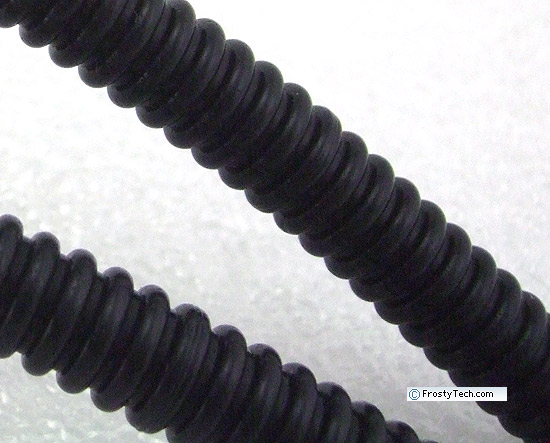 FEP Tubing
The tubing is fairly stiff and kink resistant. The barbs on the radiator end are metal, those on the pump head appear to be glass fiber plastic. The pump head barbs swivel about 120 degrees in one axis, but still take care when installing the unit so there is no chance of anything snapping. Next up, mounting hardware and the problems we encountered.