The Noctua NH-L12 is a lower profile heatsink that stands 93mm tall and is a little over 130mm square. The heatsink comes with two fans; a 120mm NF-F12 PWM fan on top and a 92mm NF-B9 PWM fan tucked away beneath the fins. In a nod to being flexible, the top fan can be knocked off the NH-L12 to lower its height to 66mm for really compact computer cases if necessary. That's a far cry more compact than the typical 160mm tall tower heatsink!
The two Noctua vaneaxial fans that ship with the NH-L12 heatsink feature SSO2-bearings, bevelled blade tips, vortex-control notches, focused flow frame, elastomeric anti-vibration rubber mounting pads and a bunch of other stuff to reduce noise and improve airflow. The full specs on the NF-F12PWM and NF-B9PWM fans are extensive.
Weighing 680 grams with both fans, the Noctua NH-L12 CPU heatsink has a relatively boxy footprint of 128x148mm. It's four, 6mm diameter copper heatpipes fan out from the nickel plated copper base plate into the thick aluminum cooling fins. In true Noctua form, all heatpipe-to-fin joints are fully soldered for good thermal conduction.
Processor compatibility is broad; the Noctua NH-L12 heatsink installs onto Intel socket LGA2011/1366/1155/1156/775 and AMD socket AM2/AM3/FM1 processors (be they single, dual, quad or six, eight or more cores). The whole package retails for about $70CDN ($70USD / £40GBP) through the usual online heatsink retailers.
Noctua NH-L12 Heatsink

---

heatsink specsheet
manufacturer: noctua
model no.: nh-l12
materials: nickel plated aluminum fins, copper heatpipes, copper/aluminum base.
fan mfg: (a) noctua nf-f12, (b) noctua nf-b9

fan spec: (a) 1500-1200rpm, 12v, 0.05a
(b) 1600-1300rpm, 12v, 0.08a

fan dim: (a) 25x120x120mm
(b) 25x92x92mm

heatsink & fan dim: (a)93x128x148mm,
(b)66x128x148mm
weight: 680 grams
includes: multi-socket mounting hardware, thermal compound, fan speed adaptors, fan clips, screwdriver, instructions

---

Compatible with Sockets:
AMD: FM1/AM2/AM2+/AM3
Intel: LGA72011/1366/1155/1156/775
Est. Pricing: $70USD ($70CDN)
MOUNTING KIT UPGRADEABLE TO SUPPORT AMD SOCKET AM4?

Manufacturer Provided Mounting Kit Required to Support AMD Socket AM4 Motherboards? YES

Manufacturer AM4 Kit Request Form Link:
https://noctua.at/en/nm-am4-mounting-kit-order-form

Noctua state: "Owners of Noctua CPU coolers can obtain the Noctua NM-AM4 SecuFirm2 Mounting-Kit free of charge via this form. A proof of purchase (electronic version, photo or scan of the invoice) of both a Noctua CPU cooler and either a socket AM4 mainboard or socket AM4 CPU are required. There is a dedicated upgrade kit (NM-AM4-UxS) available for NH-U14S, NH-U12S and NH-U9S"

For more details, heatsink exceptions and a complete list of incompatible coolers, see here.


Noctua NM-AM4 SecuFirm2 Mounting-Kit supported on following Noctua heatsinks Frostytech has tested: NH-C12P , NH-C14 , NH-D14 , NH-D15 , NH-D9L, NH-L12, NH-L9x65, NH-U12 , NH-U12P , NH-U9, NH-U9B . Noctua NM-AM4-UxS Mounting-Kit: NH-U14S, NH-U12S and NH-U9S.
The Noctua NH-L12 heatsink can be run with just the bottom 92mm fan attached; in this scenario air is drawn through the heatsink fin stack so the total height of the cooler decreases from 93mm to 66mm. There is a thermal penalty to be paid for switching from a two fan set up (120mm+92mm) to a single fan (92mm), of course.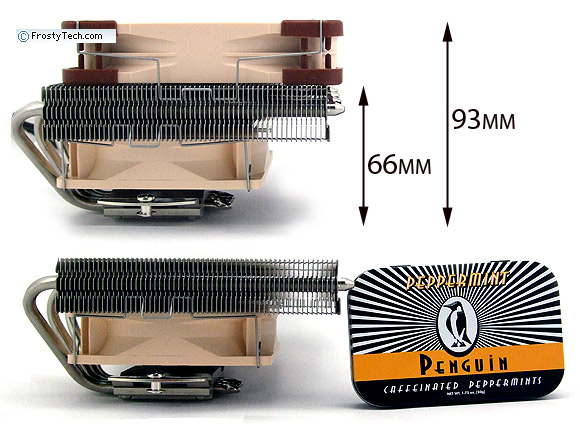 Both fans are held in place with easy to remove wire fan clips. The bottom fan rests against clear elastomer strips that give proper spacing from saw-toothed aluminum fin edges while the top fan has built in rubber corners. Both materials work to isolate the cantilevered heatsink's fins from vibration-generated by the fans.

Vibration absorbing rubber strips on the underside of the aluminum fin stack.

Vibration absorbing rubber corner inserts.
The top 120mm PWM fan (NF-F12) operates at 1500RPM - 1200RPM and the bottom 92mm PWM fan (NF-B9) runs at 1600RPM - 1300RPM.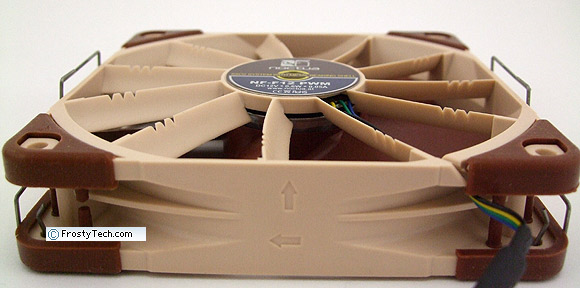 The Noctua NF-F12 is innovative as 120mm computer fans go. Here you can see the flow focusers on the underside of the fan frame. These stator guide vanes straighten airflow exiting the fan and channel it downwards. A lot of high airflow fans have these stators, incidently. The little notches are intended to stymie vortices which contribute to certain frequencies of fan noise.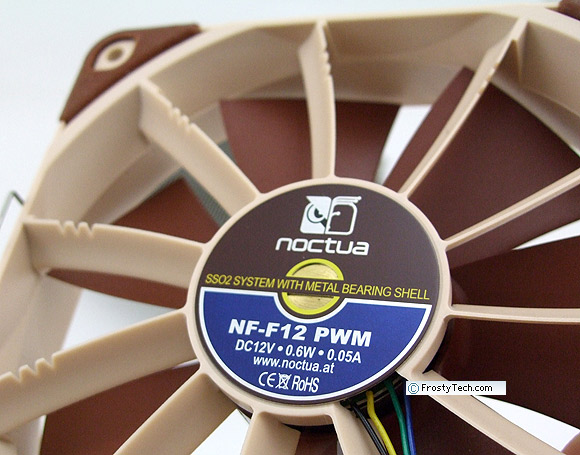 Not visible in this image, but on the inside of the fan frame are tiny dimples which Noctua claim suppresses "flow separation from the suction side of the impeller blade". If you've ever suffered a stalled videocard fan because the bearings dried out, you'll note the brass plate poking out from behind the fan motor label. This is the bearing shell, it seals off the bearings completely.
Installation Hardware
Noctua's NH-L12 heatsink is compatible with Intel socket LGA2011/1366/1155/1156/775 and AMD socket FM1/AM2/AM3 processors. The CPU cooler ships with a variety of brackets, separated into packages for AMD and Intel processors. For either CPU socket family small metal tabs must first be attached to the motherboard (with a backplate) then the heatsink can be fixed in place. Noctua mounting brackets use a common set of spring-tensioned screws that are bolted to its base to make this process quite straightforward.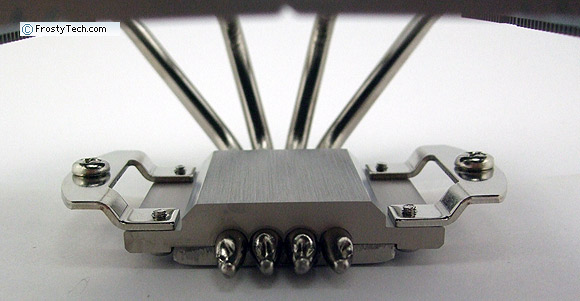 There are two specially placed holes in the aluminum fin stack that permit easy access for the supplied screwdriver to the mounting screws below. Neither fan need be removed, in most cases the screwdriver will pass between the fan impellers without interference. Fans may be removed by unhooking the wire fan retention clips that lock into the side of the aluminum fins.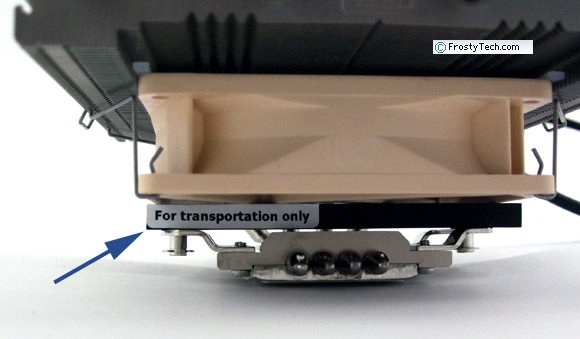 To stop the heatpipes from getting bent in transit, a thick rubber block is installed between the base of the heatsink and the lower fan. Remove this before starting up the unit. Heatpipes do not like to be bent, so exercise a little caution when handling the NH-L12 heatsink too.
In the box we find a small syringe of NT-H1 thermal compound, a screwdriver and in-line resistors that decrease the speed of the fans along with a y-splitter for running two fans off one fan header.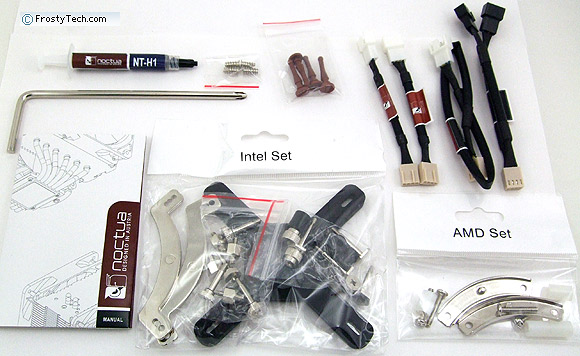 FrostyTech's Test Methodologies are outlined in detail here if you care to know what equipment is used, and the parameters under which the tests are conducted. Now let's move forward and take a closer look at this heatsink, its acoustic characteristics, and of course its performance in the thermal tests!