One of the things that often gets overlooked with self contained liquid cooling systems is the row of passive motherboard VRM and MOSFET heatsinks that surround a CPU socket. On every recent motherboard we've tested, these surface mount components are only cooled by whatever airflow comes off the processor thermal solution. This is not to say the motherboard power circuitry necessary requires direct cooling, but if the board maker has tacked on a passive aluminum heatsink, it needs some modicum of breeze to function within a reasonable temperature range. The issue that crops up with self contained water cooling systems is absence of a fan on the CPU waterblock, thus no airflow to cool the passive heatsinks around the CPU socket.
If the small passive heatsinks around your processor are hot to the touch, they could do with a fan, or a top-down heatsink like the Coolermaster Gemin II S524; ditto for the memory sticks. Top down heatsinks are generally less efficient than tower heatsinks because heatpipes are reported to lose about 30W* of their total capacity for each 90-degree bend (*if I've got my numbers right). Top down heatsinks are great for cooling DRAM modules and motherboard components around the CPU socket, so many an enthusiast swears by them for overall system happiness.
In this review Frostytech is testing out the Coolermaster Gemin II S524, a top-down heatsink that stands only 105mm tall and weighs a modest 594grams. Height is one of the other advantages of top-down coolers, this model is a good 50mm shorter than the average tower heatsink! The Coolermaster Gemin II S524 is compatible with Intel socket LGA1366/1155/1156/775 and AMD socket AM2/AM3/FM1 processors.
The Gemin II S524 ships with a 120mm PWM fan mounted to its frame, but has holes to accept a 140mm fan in its place as well. The fan operates at 1800-800RPM and exhausts air downward through a 30mm thick nickel plated aluminum fin stack punctuated by five 6mm diameter copper heatpipes. The five heatpipes elevate the body of the heatsink 47mm above the CPU socket, but rather than an exposed heatpipe base Coolermaster opt for a nickel plated copper heatspreader. The Coolermaster Gemin II S524 heatsink retails for around $30USD/CDN through the usual suspects.
Coolermaster Gemin II S524 Heatsink

---

heatsink specsheet
manufacturer: coolermaster
model no.: gemin ii s524
materials: nickel plated aluminum fins, copper heatpipes & nickel plated copper base plate
fan mfg: coolermaster a12025-18cb-4bp-f1
fan spec: 1800-800rpm, 12v, 0.32a
fan airflow: 35-77 cfm, 0.4-2.5mmh20
fan dim: 25x120x120mm
heatsink & fan dim: 105x143x144mm
weight: 594 grams
includes: mounting brackets, thermal compound, instructions

---

Compatible with Sockets:
AMD - FM1/AM2/AM3
Intel - 1366/1155/1156/775
Est. Pricing: $30USD ($30CDN)
As heatsinks go the Coolermaster Gemin II S524 is good no-frills approach to keeping one's processor cool without excessive noise. The entire heatsink is nickel plated to prevent oxidation of the copper components over time.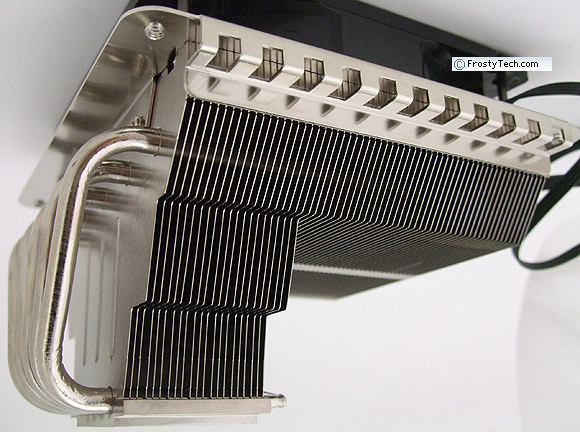 The five copper heatpipes conduct the majority of heat to the 110x124mm fin stack below the fan, but a small section about 35mm wide is also soldered to the other side of the heatpipes and copper base plate. This approach provides an extra measure of insurance should the heatpipes ever dry out and stall - in that situation some fins will continue to conduct heat away from the processor.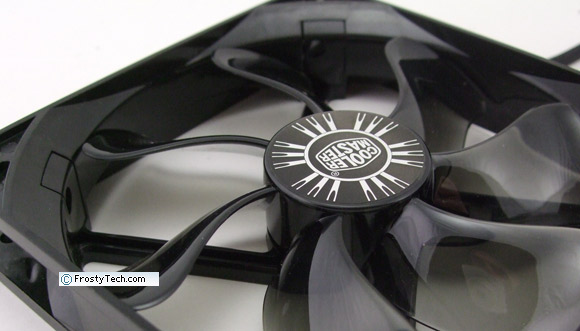 Installation Hardware
Coolermaster's Gemin II S524 heatsink is compatible with Intel socket LGA1366/1155/1156/775 and AMD socket AM2/AM3/FM1 processors. The installation procedure is more complicated than necessary, requiring access to the rear of the motherboard to install a special back plate and tighten nuts. The CPU cooler arrives with a variety of brackets, screws and nuts which are all proprietory to this design.
The multi-language manual makes installation pretty straightforward, but it is tedious. Coolermaster have been using this system for a while with its heatsinks, so there's no point in complaining.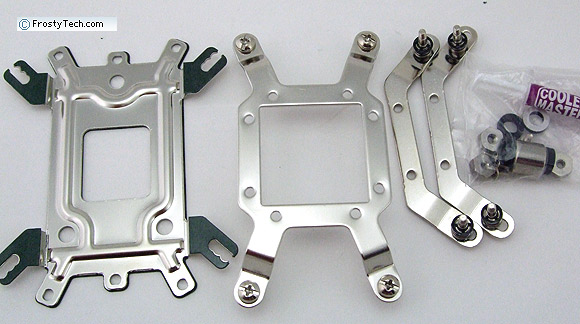 FrostyTech's Test Methodologies are outlined in detail here if you care to know what equipment is used, and the parameters under which the tests are conducted. Now let's move forward and take a closer look at this heatsink, its acoustic characteristics, and of course its performance in the thermal tests!