When it comes to low profile heatsinks for miniPC/HTPC/MiniITX/bookPCs there aren't many options. With an eye towards the under populated low profile cooling segment, Zalman released the CNPS8900 Extreme; a 60mm tall, 121mm diameter low profile cooler built for compact cooling situations.
Since I'm suffering the whims of a sinus clogging flu, I'll just tell you straight up that Zalman's CNPS8900 Extreme is the best sub-75mm tall low profile heatsink Frostytech has tested to date. Compared to full fledged heatsinks the CNPS8900 Extreme is a good-to-average performer, but in this case it's the low profile cooling capability which dominates.
Based on Zalman's proven "flower heatsink" design, the CNPS8900 Extreme is an all aluminum heatsink with two 6mm diameter copper heatpipes conducting heat from the base to the entire fin circumference. The two looped copper heatpipes and hundreds of aluminum fins are soldered to a cast aluminum base plate that exposes the heatpipes to direct contact with a CPUs integrated heatspreader. At the center of the diminutive 60mm tall heatsink is a 110mm PWM fan that operates at 2800-1250RPM and generates low-to-modest noise.
And no, that repeated mention of aluminum is not a typo brought on Kleenex induced coma. The Zalman CNPS8900 Extreme weighs only 400grams, it's aluminum fins and base plate are heavily copper plated. A little nick with an X-Acto blade is an easy way to check this sort of thing. :)
The CNPS8900 Extreme is a suitable low profile heatsink for compact computer cases and compatible with Intel socket LGA1366/1155/1156/775 and AMD socket FM1/AM3/AM2 processors. Build quality is first rate, installation straightforward and the Zalman CNPS8900 Extreme heatsink retails for around $42CDN / USD.
Zalman CNPS8900 Extreme Heatsink

---

heatsink specsheet
manufacturer: zalman
model no.: cnps8900 extreme
materials: copper plated aluminum fins, copper heatpipes, copper plated aluminum base plate.
fan mfg: zalman zf125ath
fan spec: 2800-1250rpm, 12v, 0.40a
fan dim: 25x110x110mm
heatsink & fan dim: 60x121x121mm
weight: 400 grams
includes: multi-socket mounting hardware, thermal compound, instructions

---

Compatible with Sockets:
AMD - AM2/AM3/FM1
Intel - 775/1156/1155/1366
Est. Pricing: $42USD/$42CAD
Heatsink performance aside, you've got to hand it to Zalman's thermal engineer for coming up with such a nice looking cooler. With the internal fan removed we get a better look at the fin structure and elements of the copper plated cast aluminum base plate which help relieve hot spots from developing behind the fan motor.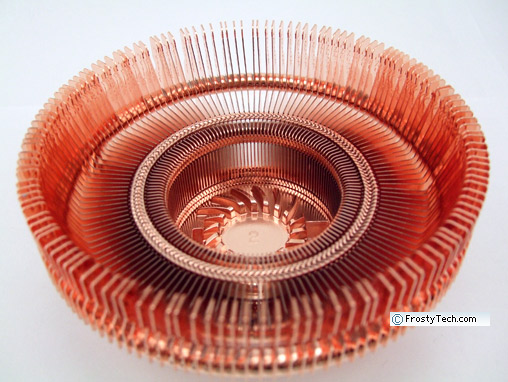 In previous models based on the flower heatsink design, the fins were the base and heat conduction relied heavily on the thermal conductivity of copper alone. With the CNPS8900 Extreme, the fins make relatively little contact with the base plate, perhaps 10mm or so. The bulk of heat conduction is tasked to twin looped heatpipes which circle the fins at two points (~82mm diameter and ~112mm diameter).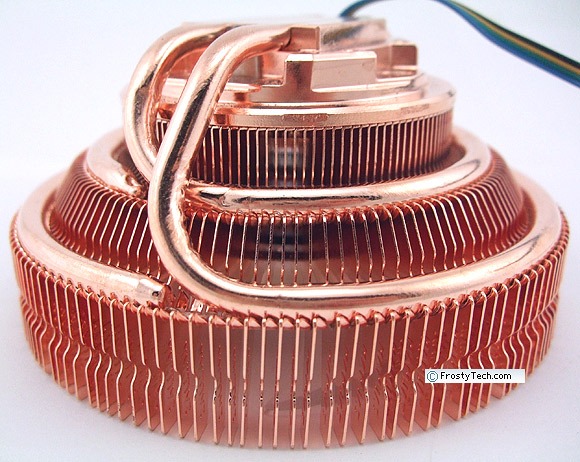 I'm not sure of the correct technical name for the fan power cable connector used with the CNPS8900 Extreme. The heatsink has one of those mini 4-pin PWM cable connectors that are typically found on videocards along with an adaptor extension which converts it to standard 4-pin PWM fan header.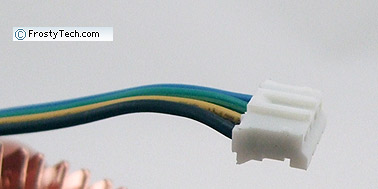 The smaller connector (pictured above) measures 8.5x4.0mm while the full size fan connector is 10.5x5.8mm. I suppose some miniITX boards feature either of these fan headers, so that gives added interoperability.
Mounting Method and Hardware
Zalman's CNPS8900 Extreme heatsink can be installed on Intel socket LGA1366/1155/1156/775 and AMD socket FM1/AM2/AM3 processors. Installation is straightforward, although you will need access to the back of the motherboard to affix the metal mounting bracket. For either AMD or Intel processors, a pair of metal brackets attach the base of the heatsink on either side of the CPU block.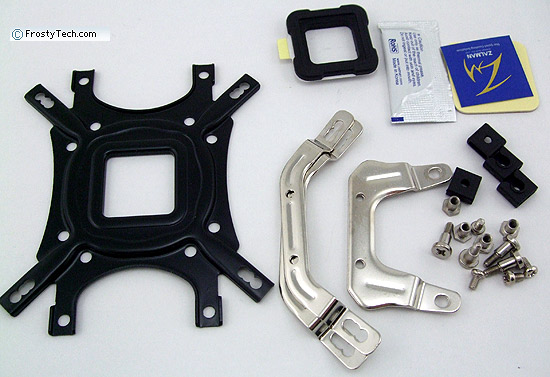 This heatsink will be tested on FrostyTech's Intel and AMD version of the Mk.II synthetic thermal temperature test platform, and compared against a couple hundred reference heatsinks. The whole test methodology is outlined in detail here if you'd like to know what equipment is used, and the parameters under which the tests are conducted.