360° View - NZXT Havik 140 Heatsink

---

Information on Frostytech's test methodology is available here.

The front and rear 140mm fans spin at a fixed 1200RPM and draw power from individual 3-pin fan headers. Each of the six nickel plated copper heatpipes are 6mm in diameter and extend from the base to the top of the 108mm tall fin stack. The aluminum fins are 0.4mm thick and spaced ~1.9mm apart. Cleverly, the center-most heatpipes are aligned to the outer edge where airflow exiting the fans is strongest.

The Havik 140 heatsink stands 169mm tall, the tower is 60mm wide without fans, the first fin is elevated 42mm above the CPU socket. Heat pipes are positioned 20mm on center. The base incorporates a 13mm thick aluminum section to provide support for clamping. Fans are held in place with rubber bands that mesh in groves cut along the edge of the fin stack... wire clips would be more secure over the long haul.

The nickel plated copper base of the NZXT Havik 140 heatsink measures 42x38mm in size and ranges in thickness from 2-5mm. The heatpipes are soldered to the base plate and to the nickel plated aluminum fins. Notice the knife edge given to the leading and trailing edge of the fins to reduce its profile - this is designed to decrease air resistance as air enters the fin tower. The rubber fan clips leave a natural plenum of 7mm behind the fans.
Base Finish and Flatness
Flipping a heatsink over to inspect the business end is often a simple indicator of overall cooler quality. More practically speaking, a heatsink is in many ways only as effective as the contact it makes with the processor - the flatter and smoother the better. Base finish is one of the criteria that Frostytech measure in the course of evaluating heatsinks, and it involves two distinct aspects. Surface Finish is the first; this is calculated with the aid of Surface Roughness Comparator that has a cross section of common machine surface finishes and their numerical surface roughness equivalents in microinches. The second is Surface Flatness. This is tested with an engineers straight edge or proven flat surface, in two axis.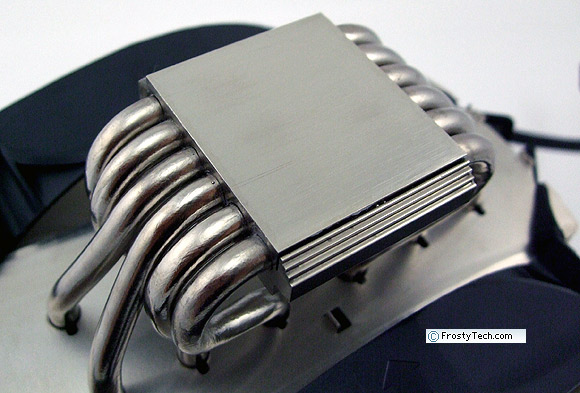 The nickel plated copper base plate of the NZXT Havik 140 heatsink has a surface roughness of approximately 16 microinches, which is considered excellent. The sanded surface finish is smooth, but unfortunately it's pretty convex in one axis and very slightly wavy in the opposite - as if the heatsink had been held against a fine sanding drum by hand. A little lapping to flatten the base up would certainly help the Havik 140's potential.
Next up, Frostytech heatsink sound level measurements...