Standing just 45mm tall, the Evercool HPL-815 is a low profile heatsink suited for use in 2U thick computer cases. It's equipped with a top mounted 80x80x15mm PWM fan that rotates at speeds of 4000-1000RPM, exhausting air downwards into a 23mm tall array of quilted aluminum fins. Four, 6mm diameter exposed base copper heatpipes conduct heat to the roughly 95x83mm fin stack which is supported by a 2.5mm cast aluminum base plate.
Although most low profile heatsinks are generally built for either Intel or AMD platforms, Evercool's HPL-815 will accommodate both Intel socket 775/1155/1156/1366 and AMD socket AM3/AM2/939/754 processor families.
The entire heatsink weighs just 320 grams, but due to its compact nature it's necessary to mount the HPL-815 by accessing the rear of the motherboard - something that's not apt to be very feasible in actual 2U rack mount chassis. The Evercool HPL-815 is well suited to cooling sub 95W TDP processors in book-sized or HTPC type computer cases. Retail price is estimated at between $20-$30 for the tiny heatsink.
Finding a good heatsink for a height limited PC case has always been a challenge, so bookmark Frostytech's Top 5 Low Profile heatsink chart before you forget.
Evercool HPL-815 Heatsink

---

heatsink specsheet
manufacturer: evercool
model no.: hpl-815
materials: aluminum fins, copper heatpipes and aluminum base with exposed heatpipes.
fan mfg: evercool ec8015th12ep
fan spec: 4000-1000rpm, 12v, 0.30a
fan airflow: n/a
fan dim: 15x80x80mm
heatsink & fan dim: 45x95x106mm
weight: 320 grams
includes: multi-socket socket mounting hardware, thermal compound.

---

Compatible with Sockets:
Intel - LGA775/1155/1156/1366
AMD - 754/939/940/AM2/AM2+/AM3
Pricing: $25USD ($25CDN)
There's not a whole lot to go over with the HPL-815 heatsink, it is pretty simple affair. One thing of note however, is the quilted pattern on the aluminum fins.
It's a simple fin texture for sure, but we're kind of surprised more manufacturers haven't applied the same technique to other heatsinks. The actual impact of the quilted aluminum fins is up for debate, at best this may induce a small amount of air turbulence by disrupting laminar airflow. It's impossible for us to say with any certainty however.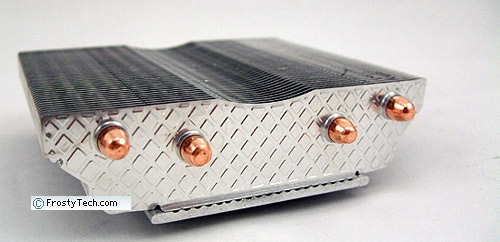 Heatsink Installation Hardware
Evercool ship the HPL-815 with a series of metal brackets that screw into the base of the heatsink to accommodate the different Intel and AMD motherboard mounting hole patterns. All the brackets require threaded screws to be passed through the board's mounting holes from the rear, meaning the heatsink must be installed before the motherboard goes into the PC case.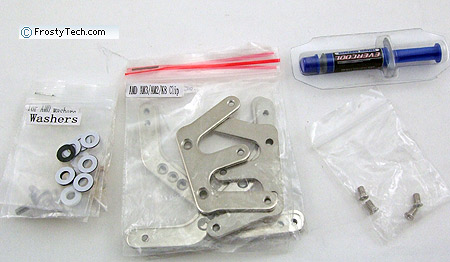 The upside is that the Evercool HPL-815 is unlikely to ever pop loose. The downside is you may need to remove a lot of other components to gain access to the rear of the motherboard. Hardware is notoriously packed tight in small computer cases / HTPC systems / Book sized PC cases. The metal brackets, packets of screws and washers are all neatly labeled to make installation easy. A small syringe of thermal compound is provided too.
FrostyTech's Test Methodologies are outlined in detail here if you care to know what equipment is used, and the parameters under which the tests are conducted. Now let's move forward and take a closer look at this heatsink, its acoustic characteristics, and of course its performance in the thermal tests!