360° View - Akasa Revo Heatsink

---

Information on Frostytech's test methodology is available here.

The Akasa Revo uses a 92mm PWM fan to move air through the 16mm deep fluid-to-air heat exchanger (aka condenser). The effective fin area of the aluminum heat exchanger measures 95x87mm in size. The actual fins are 7mm tall, >0.1mm thick.

From the top we can see how simple the Akasa Revo heatsink is and the carefull orientation of pipes leading from/to the evaporation chamber. Shown at left is how NOT to mount the heatsink. At right is the CORRECT orientation - the heat exchanger must be higher than the CPU block (fan removed for clarity).

One aluminum tube leaving the evaporation chamber is 8mm in diameter, the other 10mm in diameter. The entire heatsink is constructed from aluminum components brazed together for a hermetically sealed system. The heatspreader on the base of the evaporation chamber is 4mm thick, the chamber 20mm tall to facilitate proper boiling of the working fluid.

The aluminum base plate measures 45x45mm in size. From the rear you can see the very thin aluminum fins of the heat exchanger and the 2mm wide fluid pathways for the hot working fluid to pass through.
Base Finish and Flatness
Flipping a heatsink over to inspect the business end is often a simple indicator of overall cooler quality. More practically speaking, a heatsink is in many ways only as effective as the contact it makes with the processor - the flatter and smoother the better. Base finish is one of the criteria that Frostytech measure in the course of evaluating heatsinks, and it involves two distinct aspects. Surface Finish is the first; this is calculated with the aid of Surface Roughness Comparator that has a cross section of common machine surface finishes and their numerical surface roughness equivalents in microinches. The second is Surface Flatness. This is tested with an engineers straight edge or proven flat surface, in two axis.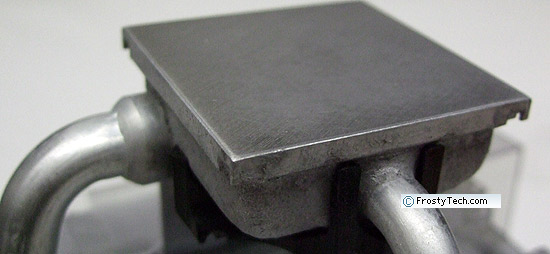 The aluminum base plate on the Akasa Revo heatsink has a fairly smooth, sanded finish with a surface roughness of ~16 microinches. According to the straight edge the base is very slightly convex in one axis and generally flat in the opposite.
Sound level measurements are coming up next on Frostytech...