360° View - Zalman CNPS9900 Max Heatsink

---

Information on Frostytech's test methodology is available here.

The CNPS9900 Max's 130mm PWM fan blue LED illuminated and spins at 1700-900RPM depending on BIOS settings. Power is supplied by a 4-pin motherboard fan header that is backwards compatible with 3-pin fan headers. Standing 150mm tall, 130mm at its widest, the CNPS9900 Max is 94mm deep and relatively compact by Zalman standards. Three 6mm diameter composite wick copper heatpipes are used, one at front, two in the rear portion. The fins form a 60mm diameter hole at the front for better air intake and ~50mm diameter space at rear where the fan motor is housed.

In the 32mm space between two asymmetric donut shaped nickel plated copper fin arrays sits the 130mm fan. Mounting brackets slip in under the aluminum base cap after four screws are first loosened.

Each nickel plated copper fin on the CNPS9900 Max heatsink measures ~0.1mm thick. Fin spacing is 2.0mm at the outside, 0.5mm along the inside. The fins are soldered to all three 6mm diameter copper heatpipes.

The nickel plated copper base of the Zalman CNPS9900 Max heatsink measures 40x38mm in size. It is 2-4mm thick and has recesses for the six ends of the three 6mm diameter composite copper heatpipes (which are soldered in place).
Base Finish and Flatness
Flipping a heatsink over to inspect the business end is often a simple indicator of overall cooler quality. More practically speaking, a heatsink is in many ways only as effective as the contact it makes with the processor - the flatter and smoother the better. Base finish is one of the criteria that Frostytech measure in the course of evaluating heatsinks, and it involves two distinct aspects. Surface Finish is the first; this is calculated with the aid of Surface Roughness Comparator that has a cross section of common machine surface finishes and their numerical surface roughness equivalents in microinches. The second is Surface Flatness. This is tested with an engineers straight edge or proven flat surface, in two axis.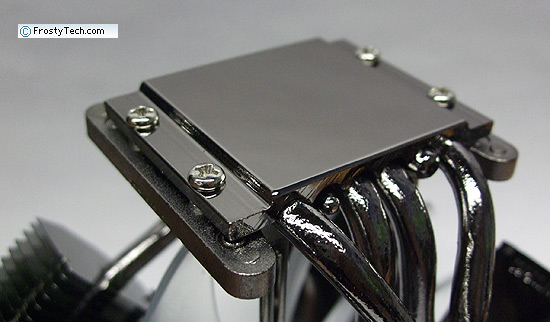 The base of the Zalman CNPS9900 Max heatsink is perfectly flat in one axis and very slightly convex in the opposite, mostly just over the center. The copper baseplate has been machined but the nickel plating on top of that gives the surface a glossy finish that is very smooth. Surface roughness is at or better than ~8 microinches, which is excellent.
Sound level measurements are coming right up next.