Every once in a while heatsink manufacturers clamour to unveil upcoming, and as of yet unavailable heatsinks for the world's tech media to chew on. At this past CES 2010, Frostytech met with Thermaltake to get a firsthand look at a new heatsink called the Frio. It was on display as part of a demo to showcase the fantastic speeds of USB 3.0, and Thermaltake reps were keen to show it off... In any event, Thermaltake have finally produced an excellent high performance heatsink worthy of FrostyTech's Top 5 Heatsink chart.
All it took was two fans, five 8mm diameter heatpipes, a 1kg mass of metal and a little concentrated effort. It's called the Thermaltake Frio heatsink.
Standing 161mm tall, the 1042 gram heatsink has a modestly bulky footprint of 139x119mm, so it's best suited to full size computer cases. The Frio ships with two 120mm fans that operate at 1200-2500RPM in a push-pull configuration. The fans are non-PWM so the manufacturer has attached small fan speed controllers to each fan power cord. The heatsink is compatible with AMD socket AM2/AM3 and Intel socket 775/1156/1366 processors and can be used with one or both of the fans installed.
Thermaltake Frio Heatsink

---

heatsink specsheet
manufacturer: thermaltake
model no.: frio (clp0564)
materials: nickel plated aluminum fins, copper heatpipes, copper base plate
fan mfg: power logic pla12025s12hh-lv
fan spec: (x2) 1200-2500rpm, 12v, 0.50a
fan dim: 25x120x120mm
heatsink & fan dim: 161x139x119mm
weight: 1042 grams
includes: multi-socket mounting hardware, thermal compound, instructions.

---

Compatible with Sockets:
AMD - AM2/AM3
Intel - LGA775/1156/1366
Est. Pricing: $65USD ($65CDN)
The interesting bits of the Thermaltake Frio heatsink are hidden behind the plastic fan shroud - each aluminum fin is angled very slightly about a third of the way through. This disrupts the boundary air layer over what is otherwise a flat aluminum fin. The five 8mm diameter heatpipes are grouped towards the outer edges of the aluminum fins, placing them in the path of highest airflow coming off the fans.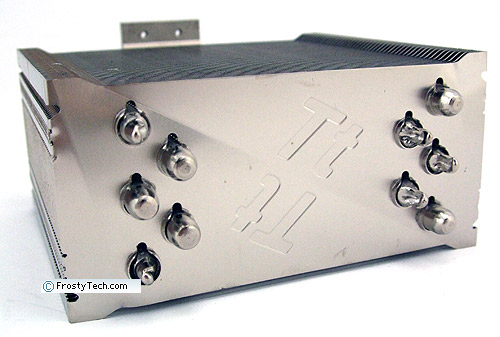 In most other respects the Thermaltake Frio is a straightforward tower heatsink. As an added measure the heatpipes are soldered throughout the stack of aluminum fins, as well as to the copper base plate.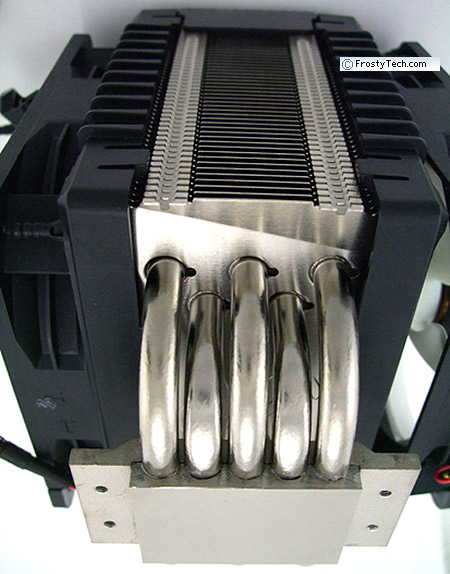 Heatsink Installation Hardware
Thermaltake's Frio heatsink ships with separate brackets for Intel socket LGA775/1156/1366 and AMD socket AM2/AM3 processors. Each set of brackets is screwed onto the base of the heatsink and threads through the motherboard with a rear support plate. Unfortunately this requires access to the rear of the motherboard to fasten a set of nuts, making any future CPU swapping a major maneuver.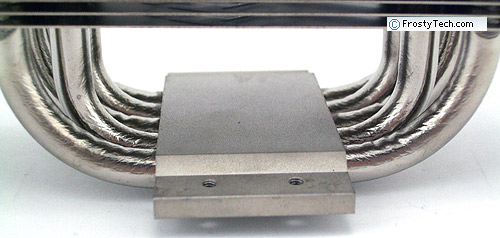 Given that this heatsink weighs 1042 grams, the solution that Thermaltake chose does assures that it won't be going anywhere.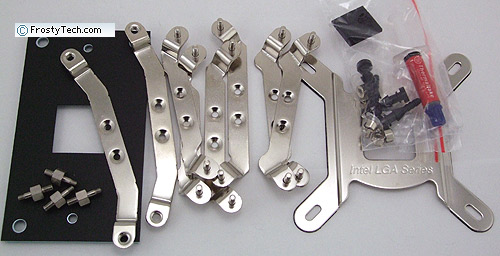 FrostyTech's Test Methodologies are outlined in detail here if you care to know what equipment is used, and the parameters under which the tests are conducted. Now let's move forward and take a closer look at this heatsink, its acoustic characteristics, and of course its performance in the thermal tests!