360° View - XtremeGear HP-1216B Heatsink

---

Information on Frostytech's test methodology is available here.

The 120mm fan spins at 2000-1000RPM and draws power from a standard 3-pin motherboard fan header. The fan is barely held on by four rubber vibration absorbing posts which are spaced longer apart than the length of slots in the aluminum fins. Five 8mm diameter copper heatpipes rise up through bare aluminum fins which have a dimpled surface texture. Each aluminum fin measures 0.3mm thick and is spaced 2.0mm apart. The surface texturing on each fin consists of a very small dimple popping out on both sides of the metal.

The XtremeGear HP-1216B heatsink stands 153mm tall, the bottom-most fin being 39mm above the CPU socket for clearance. The five heatpipes are positioned side to side where they make direct contact with the processor, and expand outward to form an X-pattern through the aluminum fins. The base incorporates a 9mm thick aluminum section to provide support for clamping, with 10mm extruded fins above for a little extra cooling surface area.

Looking at the XtremeGear HP-1216B heatsink from the top you see the dimpled aluminum texture. The edges of the stamped aluminum fins are sharp, so take care when handling this cooler. The X-pattern of heatpipes passing through the fins helps to ensure equitable heat conduction to the location receiving the most airflow from the fan. The base of the heatsink measures 38x54mm in size, featuring five exposed copper heatpipes. An Intel LGA775 processor only makes contact with the center three heatpipes.
Base Finish and Flatness
Flipping a heatsink over to inspect the business end is often a simple indicator of overall cooler quality. More practically speaking, a heatsink is in many ways only as effective as the contact it makes with the processor - the flatter and smoother the better. Base finish is one of the criteria that Frostytech measure in the course of evaluating heatsinks, and it involves two distinct aspects. Surface Finish is the first; this is calculated with the aid of Surface Roughness Comparator that has a cross section of common machine surface finishes and their numerical surface roughness equivalents in microinches. The second is Surface Flatness. This is tested with an engineers straight edge or proven flat surface, in two axis.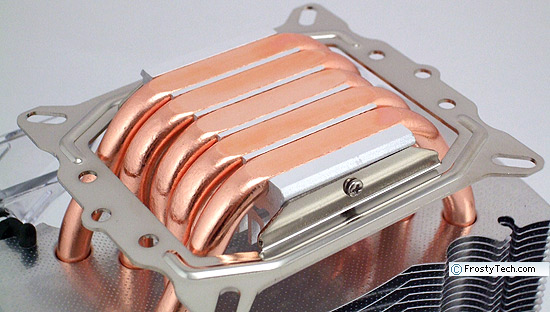 XtremeGear's HP-1216B heatsink has a surface roughness of approximately 32 microinches, which is considered good. The base is machined perfectly flat in both axis, with a slight grooved finish from the tooling. The copper and aluminum parts are flush.
Sound level measurements are coming right up next.